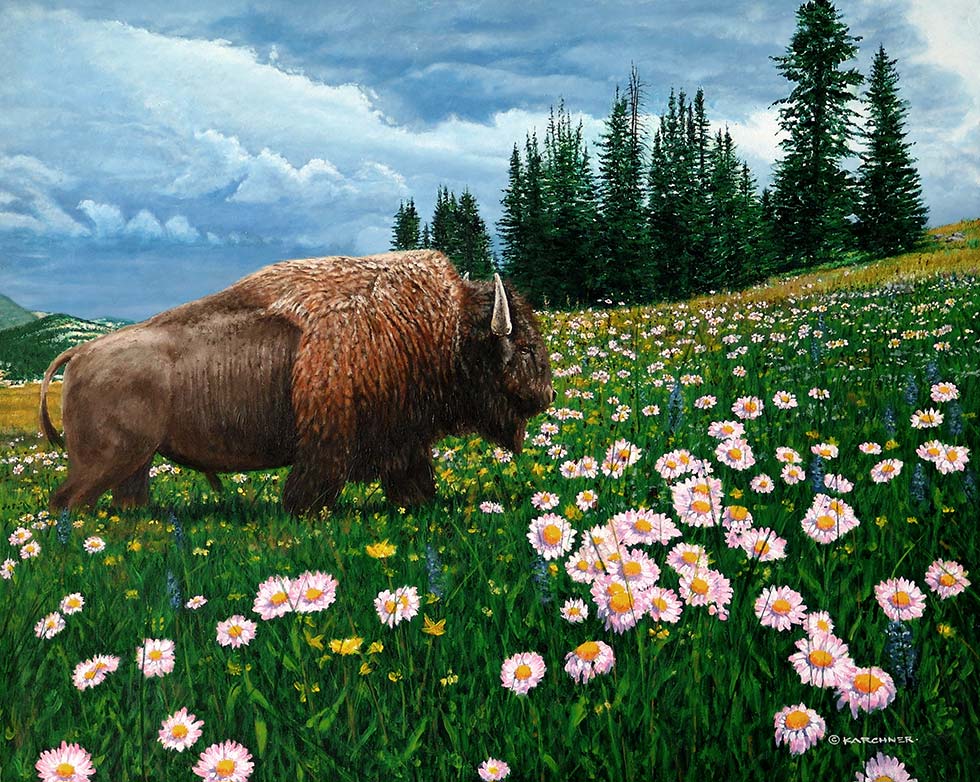 The piece is 16″ x 20″ overall. It is painted in acrylics on a 1/8″ thick museum-grade Masonite, Ampersand Claybord. It has a white, slightly textured Gesso-covered clay surface. It is pH Neutral and acid-free. One other advantage of the Masonite Claybord over a stretched canvas is that is very durable and a lot more stable. Another advantage to these boards is that they are all ready for paint without prepping them in any way.
Here we go. Leigh took a fantastic photograph of a massive buffalo bull plodding through the famous Hayden Valley of Yellowstone National Park in September of 2005. I located another shot of Hayden Valley that I liked and put here buffalo bull into it. Here is the first day's work with the sky completed.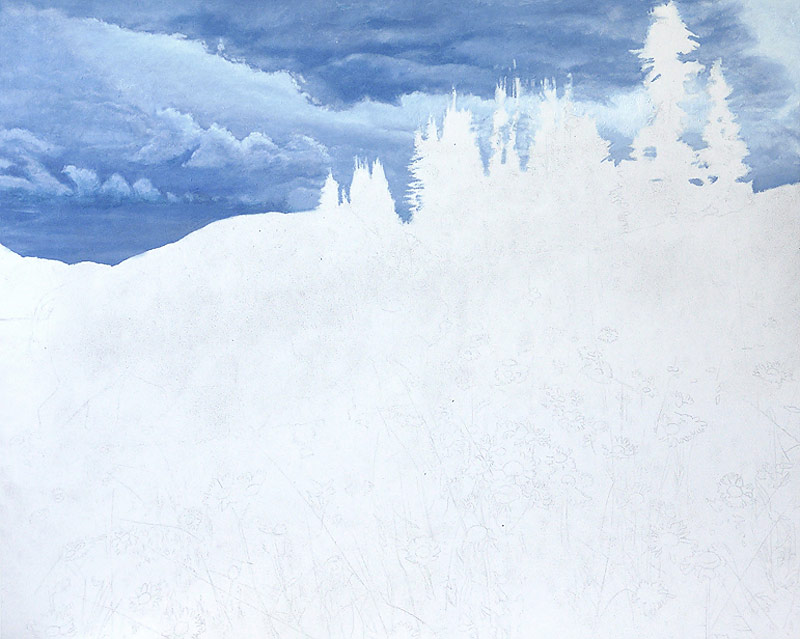 This is day two. In the background are lodge-pole pines, native to the park and the distant rolling hills added.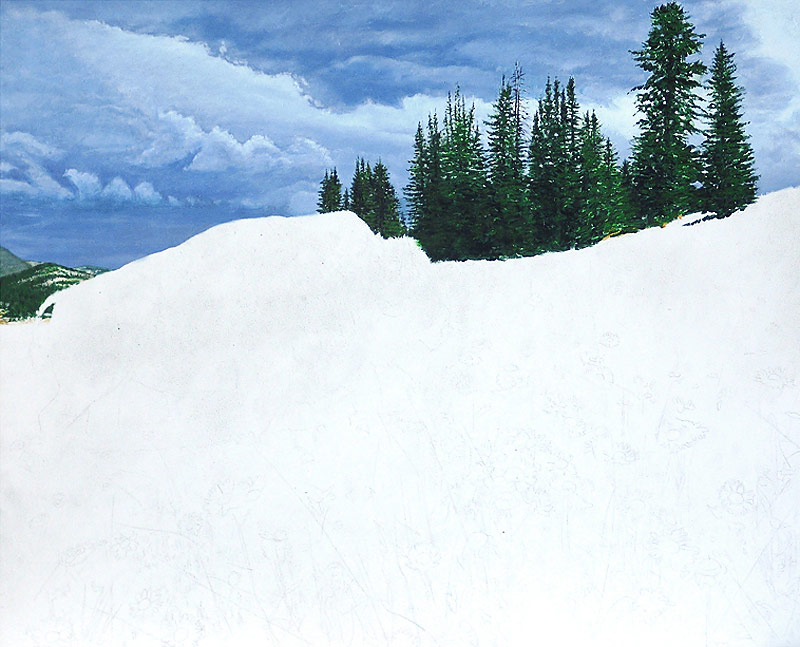 Here I have the buffalo roughed in. I have been told that I do have some strange artistic techniques. I create in pieces. I do try to finish off the areas as I go, but I am a realist in another sense. I do go back in and re-work all the areas if needed after I see the piece as a whole. There will be many changes to what you see here.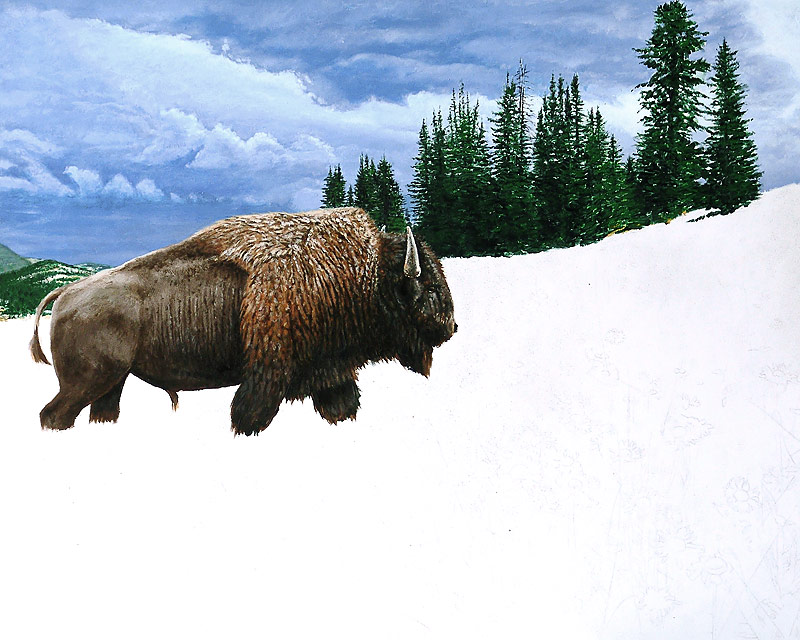 Here is day four. I have roughed in the grass with the base greens. Olive green in the background running to the foreground which has more brilliant greens.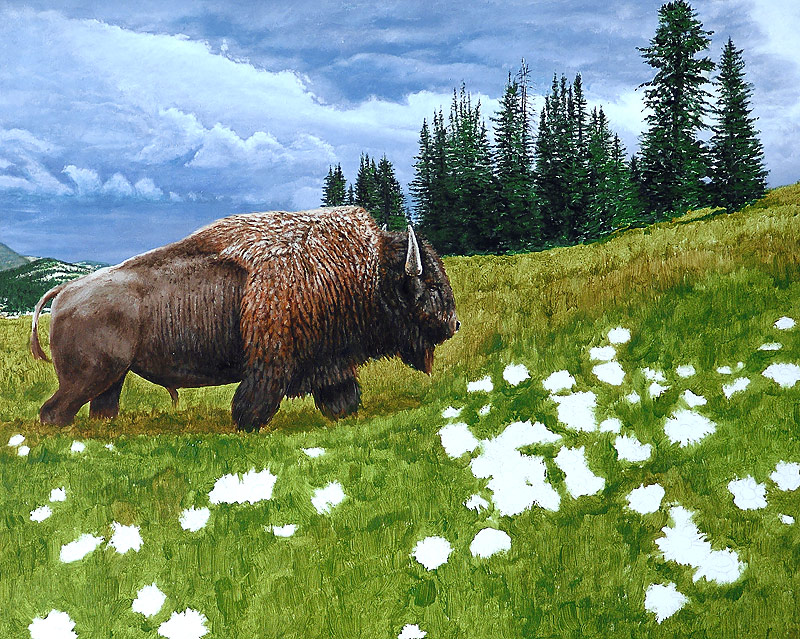 Day five. I have laid down another heavier covering of greens on the grassy areas. This will help create some of the highlights in the grass.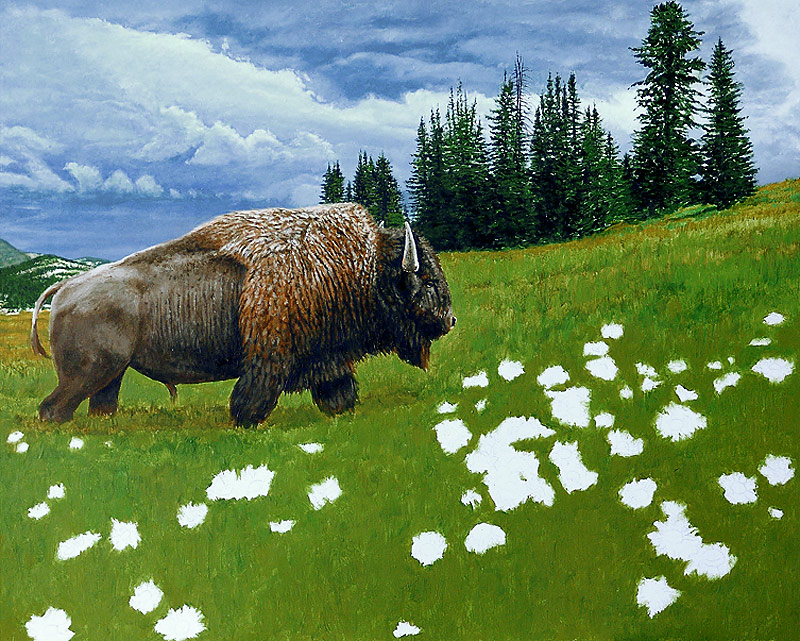 On day six, I have painted in what will eventually be the shadow areas between the blades of grass and flowers. I also went into the pine trees behind and added more detail.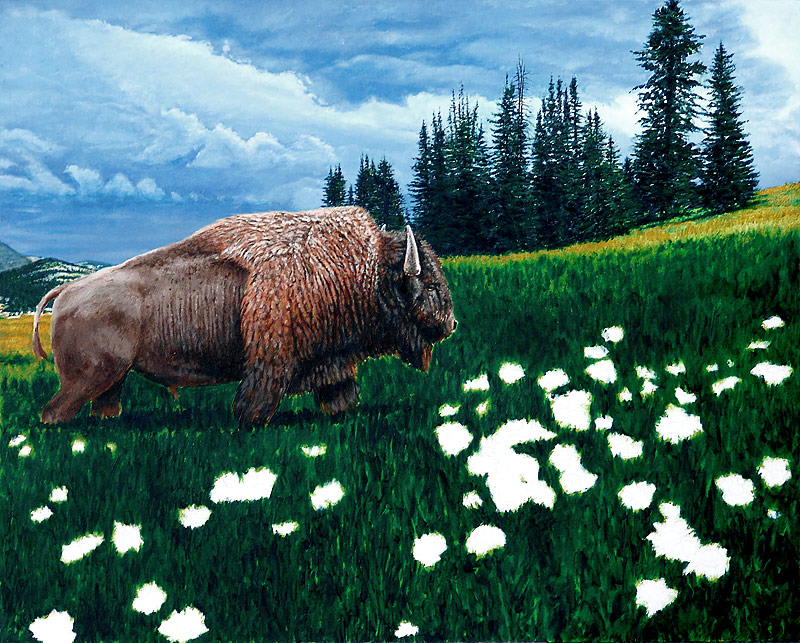 Day seven, more grass detail, now comes the flower base coats.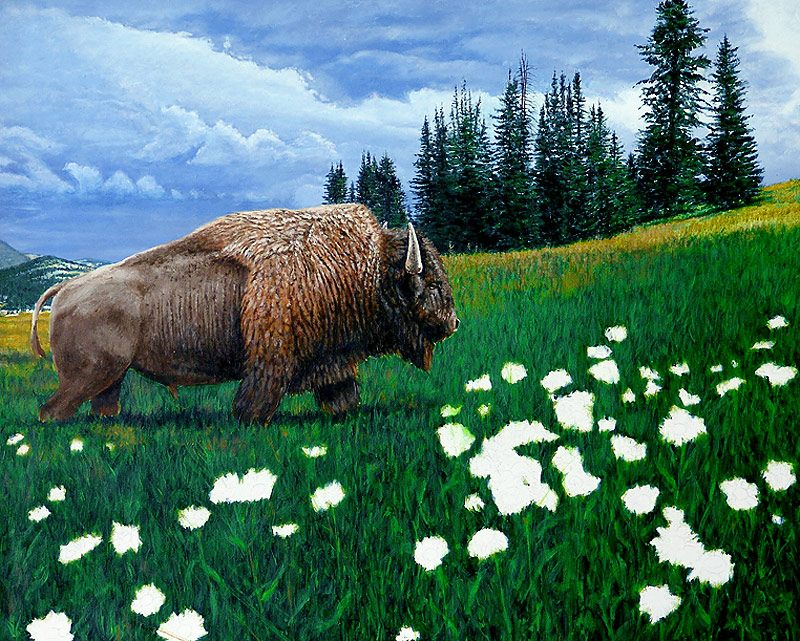 On day eight I have all the pink flowers roughed in. On this day, I went in and laid more detail and contrast to the buffalo.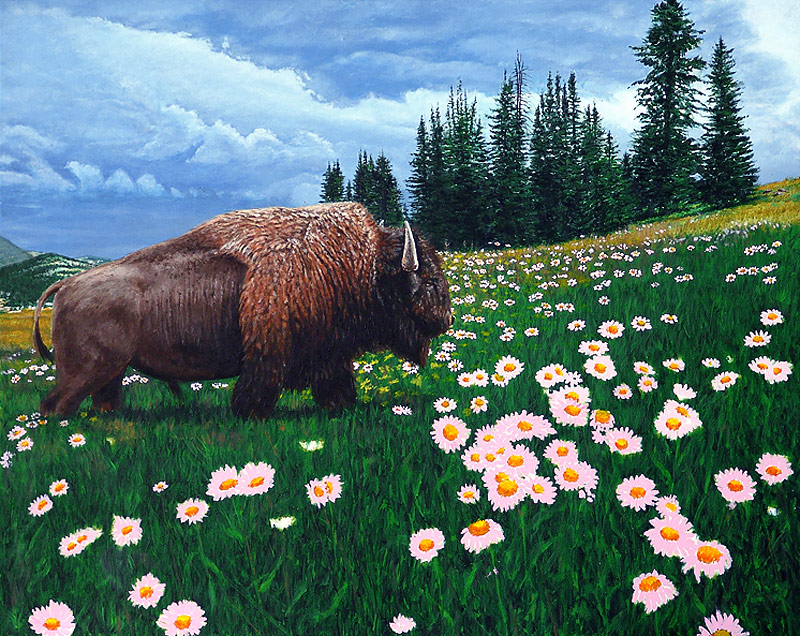 On day nine, I have the flowers almost done. All that is left to do is paint in all the fine detail in those flowers and the blades of grass and sign it.
The final!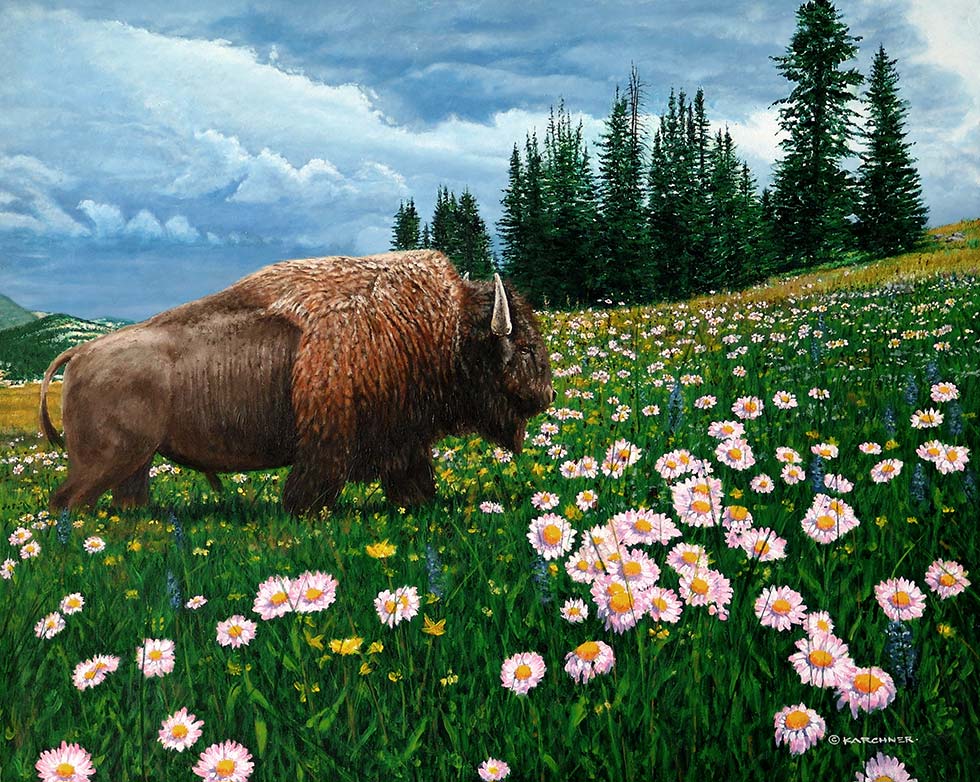 Here are four close-ups so you can view the detail in these areas.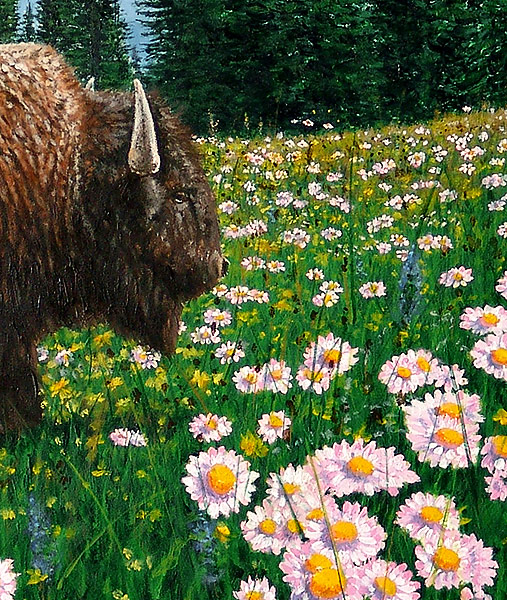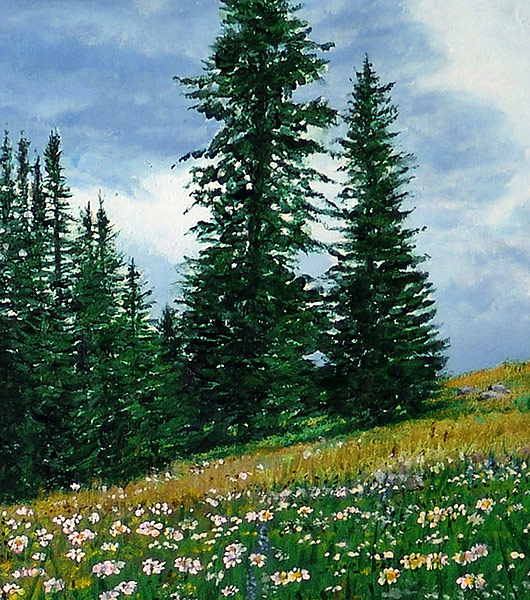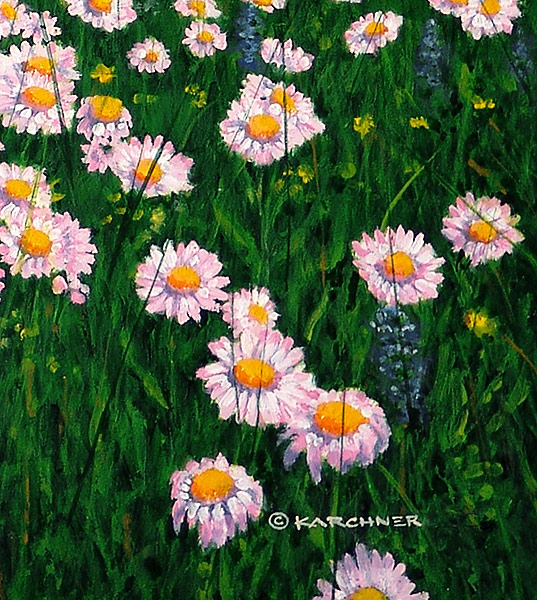 Thanks for looking! Stay tuned, there are many more of my works in progress to come.
Denny