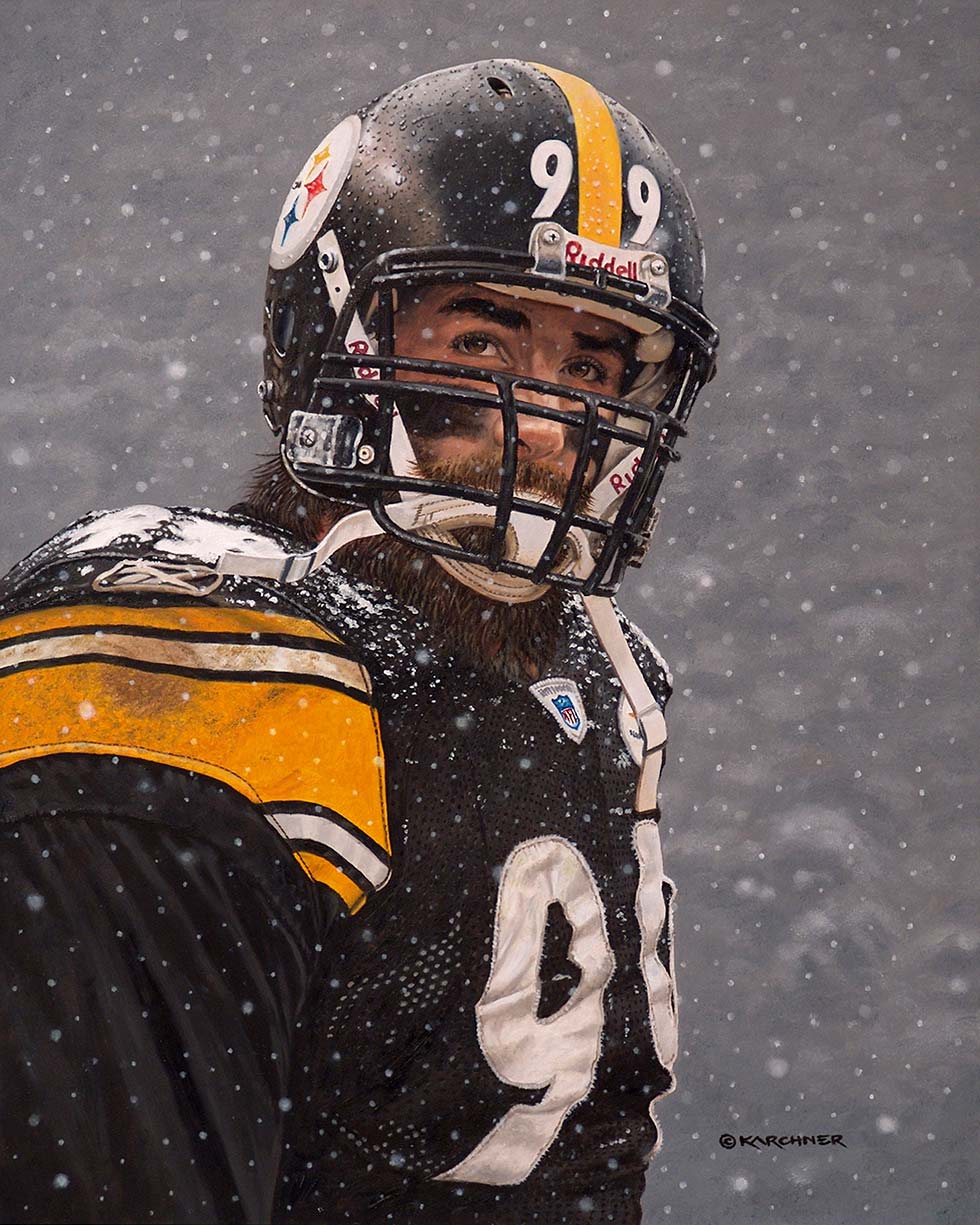 This is Steeler Defensive End, Brett Keisel from Greybull, Wyoming.
This painting is traditional oils on museum-grade Masonite. The finished size is 16″ x 20″.
Here is version one. I laid down the base coat for his helmet shell. A lot more detail to come!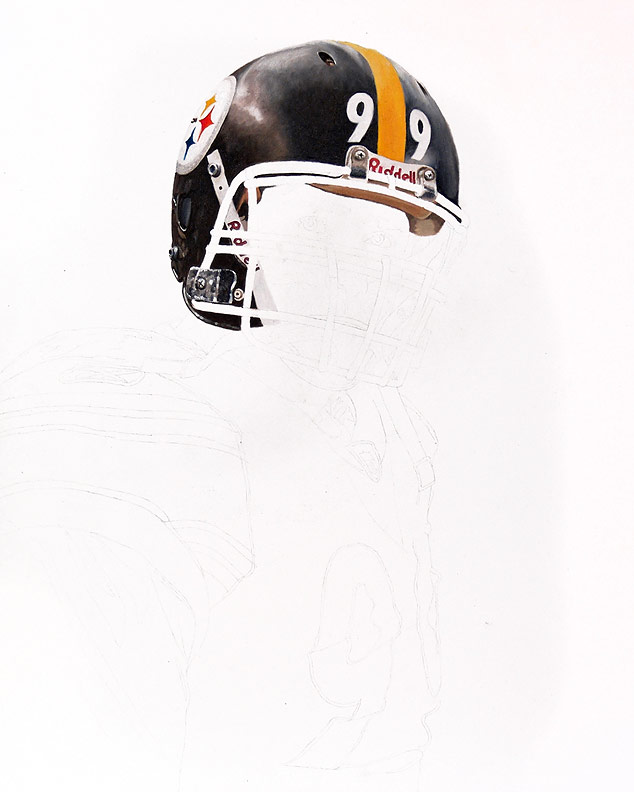 This is day two. Today I roughed in Brett's face.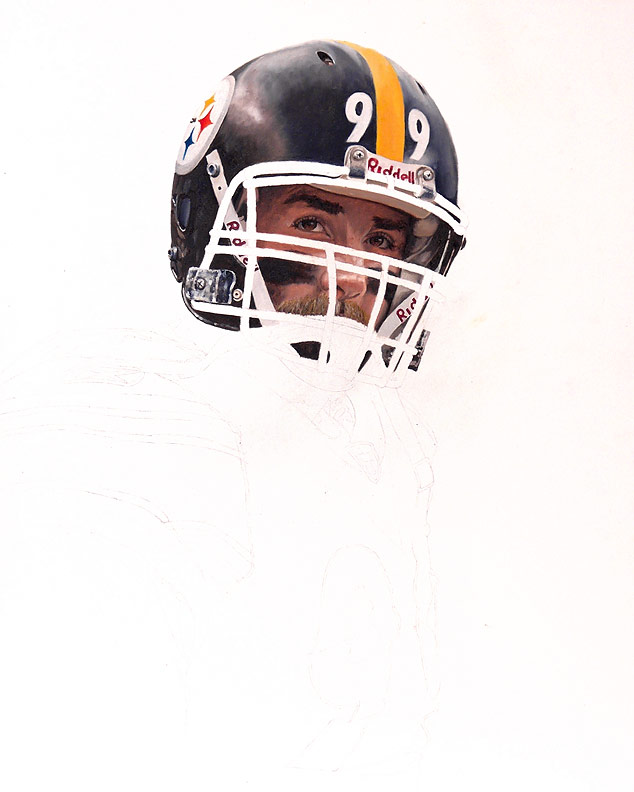 Day three. Here I roughed his helmet cage. This is one of the toughest things that I paint. Next in line, are a rifle barrel and hands. I would rather paint ten faces than one helmet cage! The real challenge is to paint a true straight line. Any slight variations really jump off the board to my eye.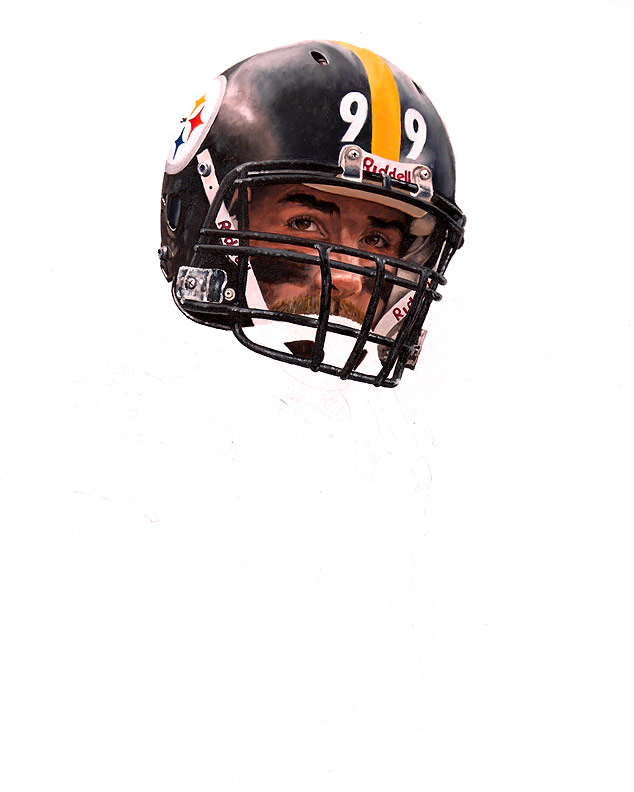 A good example of a real challenge for me was this piece titled Spirit, Horse, Hunter. A lot of the parts of Richard Ashburn's flintlock had many straight lines to contend with. Then, throw in my other favorite thing to paint, hands!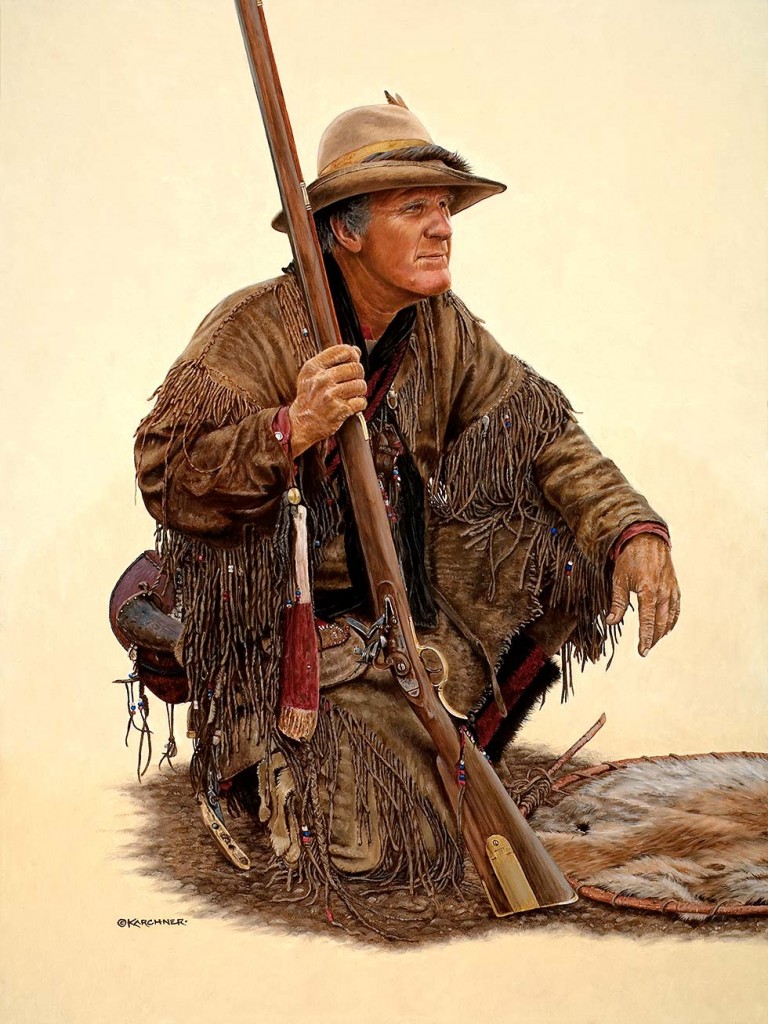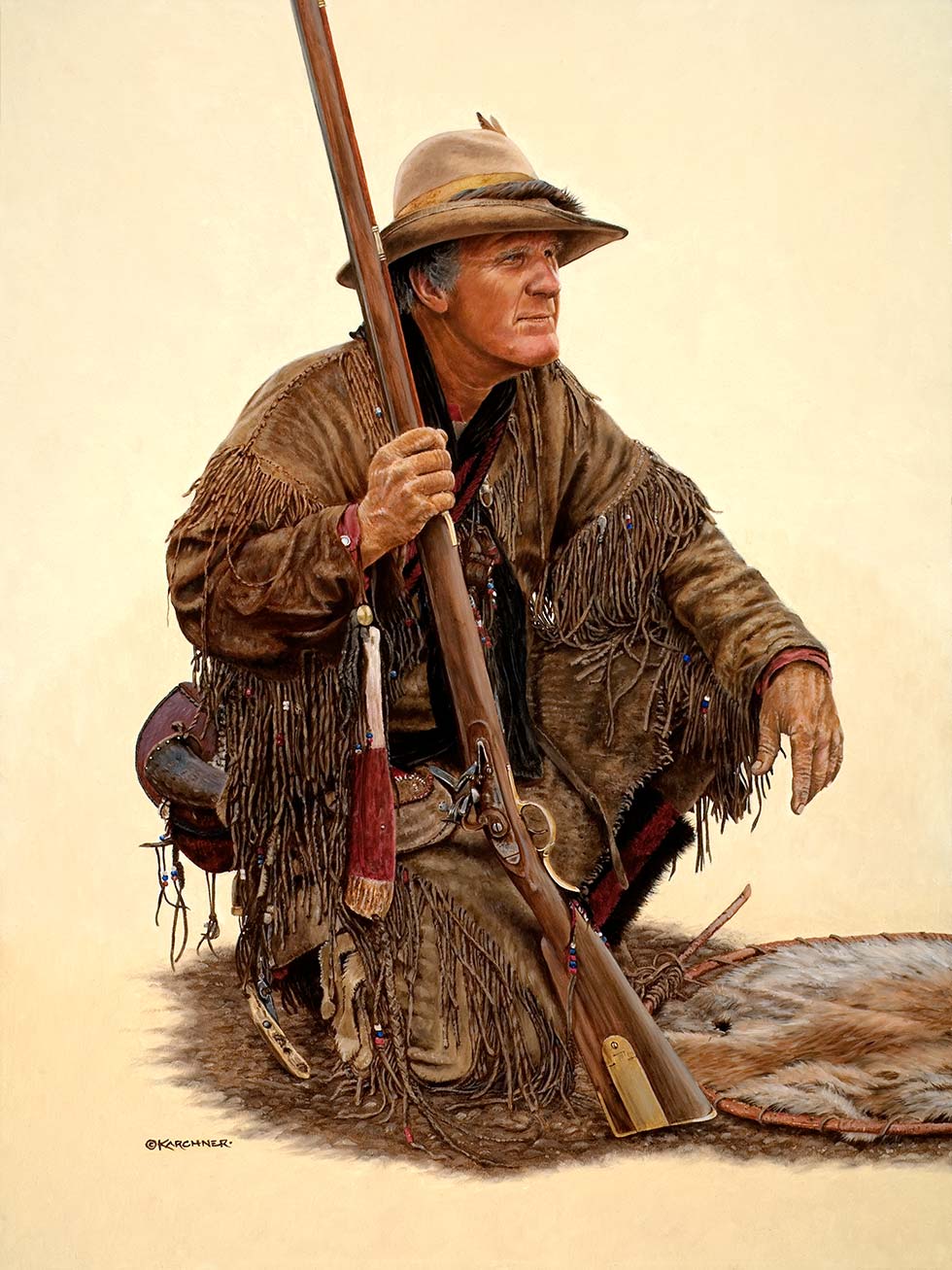 Day four. After his helmet and cage dried, I was able to paint the melted snow droplets on the surfaces. If you look close, there are even a few hanging from his cage bars. I will add a few more on the bars in front of his chin piece once it dries. Speaking of his chin piece, I was able to rough it in along with his hair and beard. Once they dry I can finish detailing them.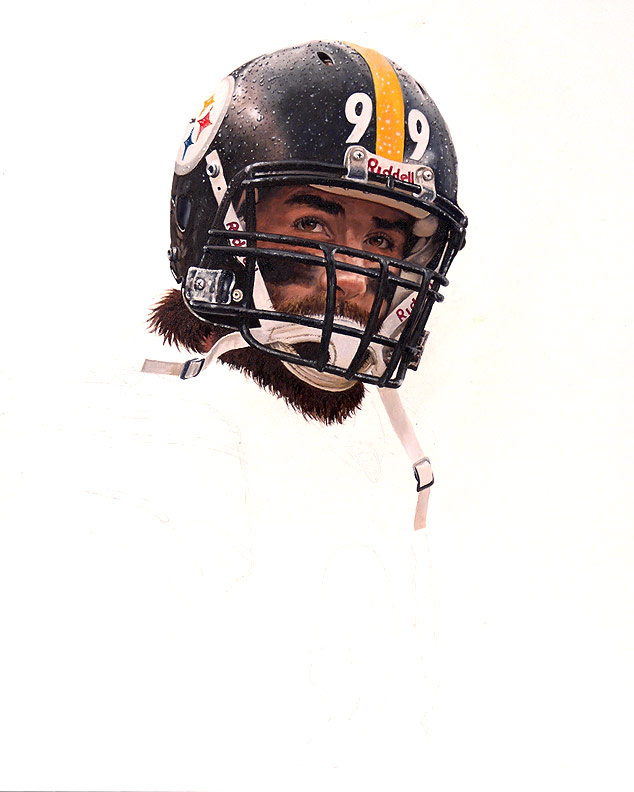 Day five. I have finished detailing the cage, the chin piece and straps. As you see I have also roughed in his right shoulder, left shoulder and collar area. Once the collar area dries, I can finish painting in Brett's long beard and hair that come down over that area. I will also finish detailing the snow lying on his shoulders.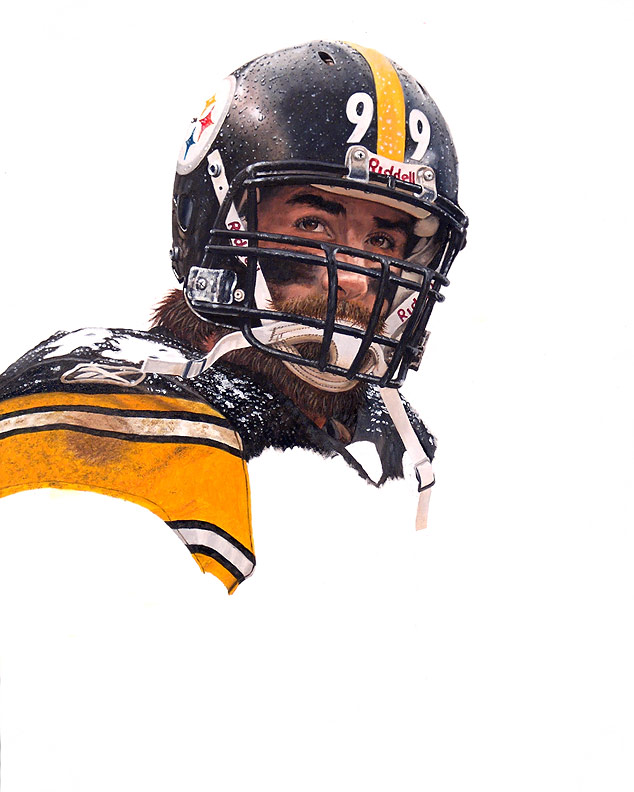 Day six. I detailed his beard and hair to come down over the jersey. There will be more beard and hair detail to add again later. I was able to finish laying down the base coat for the rest of the jersey, the #99, NFL Equipment patch and the Steeler patch. Now comes the painstaking job of painting all the holes in the mesh of the jersey. I'm on the home stretch now!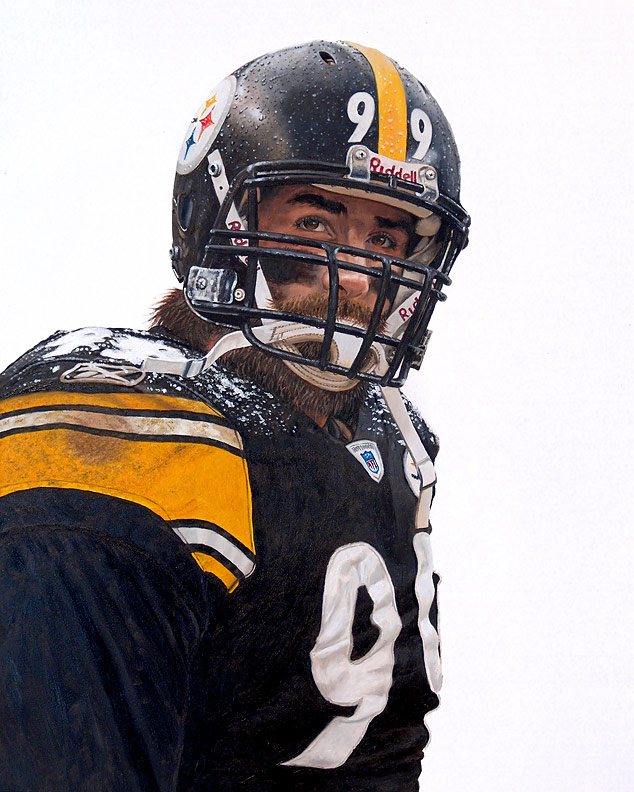 The artist at work.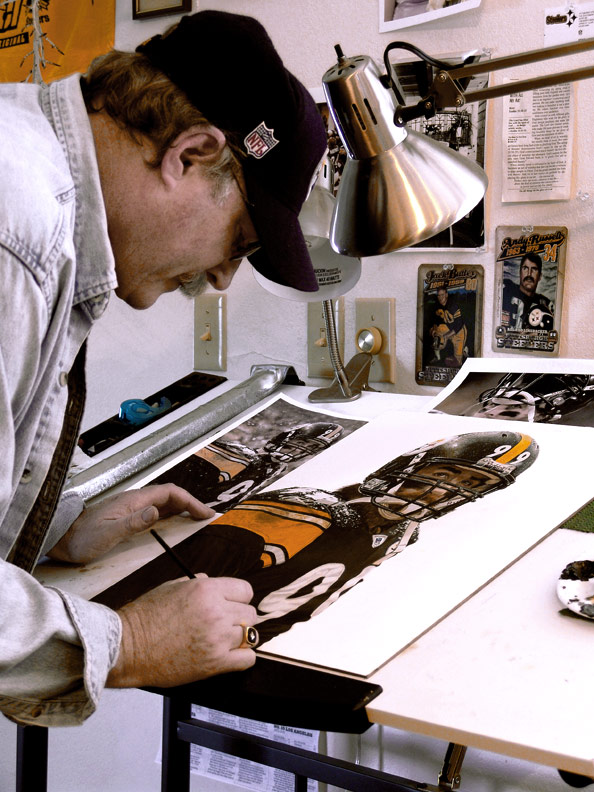 Day seven. I spent the better part of the day shading his right sleeve and painting the hundreds of mesh holes in the front of the jersey!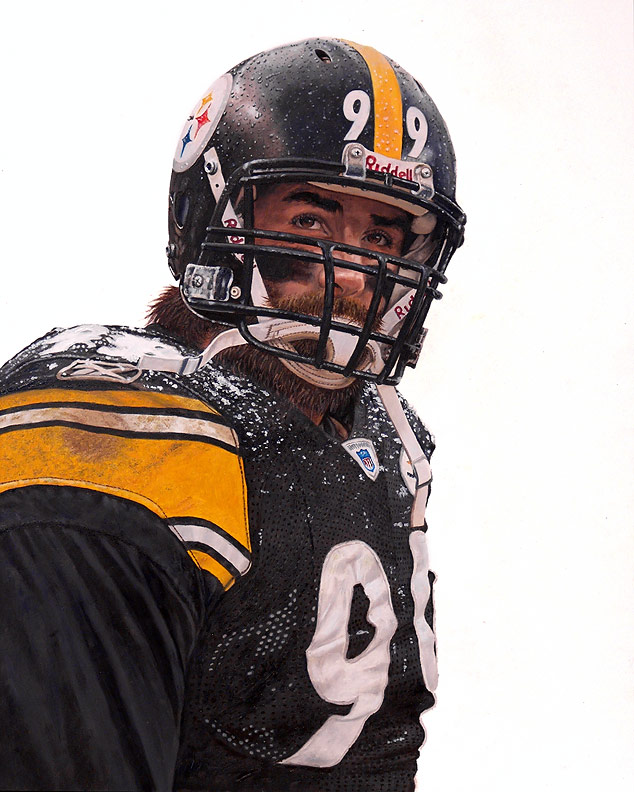 Here is a close-up of Brett's jersey front.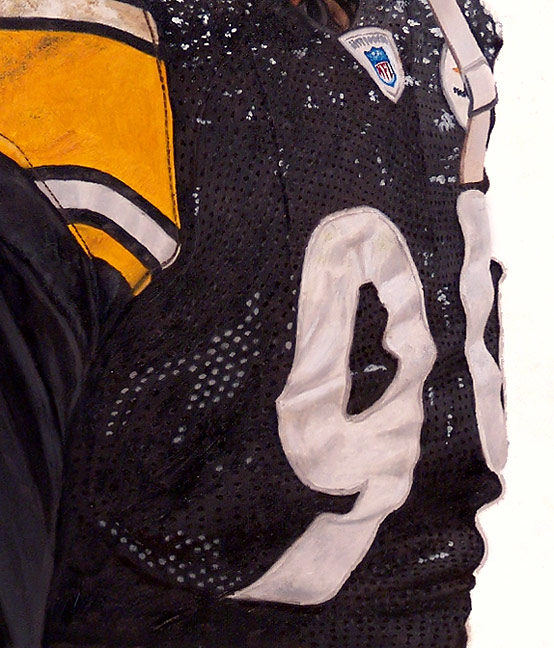 Day eight. I wasn't going to post this step but decided to show what took a lot longer to paint than I thought. I spent hours painting all the snowflakes on top of Brett. When he was photographed by Mike Fabus, the Steeler photographer, the falling snow takes on a lot of different sizes because of the camera's depth of field. The snowsflakes closer to the lens appear bigger and out of focus compared to the snowflakes closer to Brett. This was tough to recreate but I think that I nailed it. Now, the background!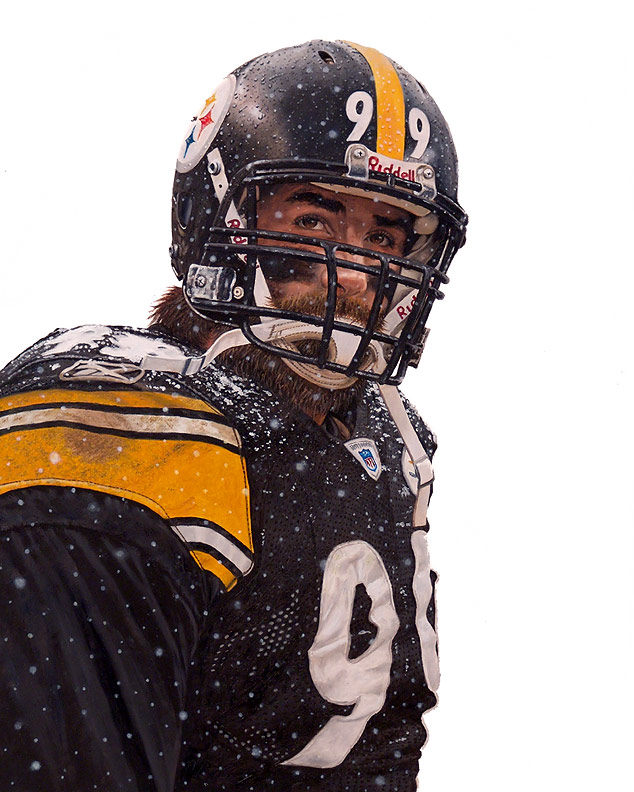 Here is the final version of Brett's portrait. The obvious thing you see is the snowy background that I added but there are also a lot of little details that I added to Brett. You will see that I made his beard the correct length and reworked his hair over the grey background after it dried slightly. I detailed the #99 on the front of his jersey and added some detail to the small NFL Equipment and Steeler patches. Lastly, I signed it.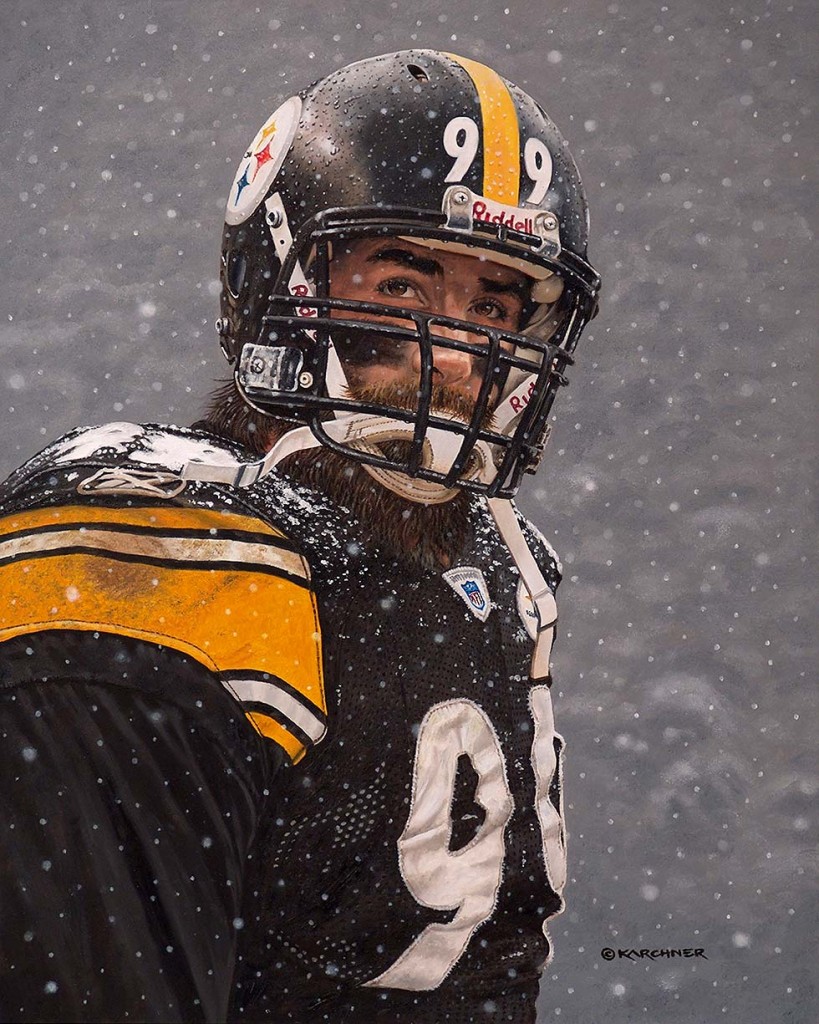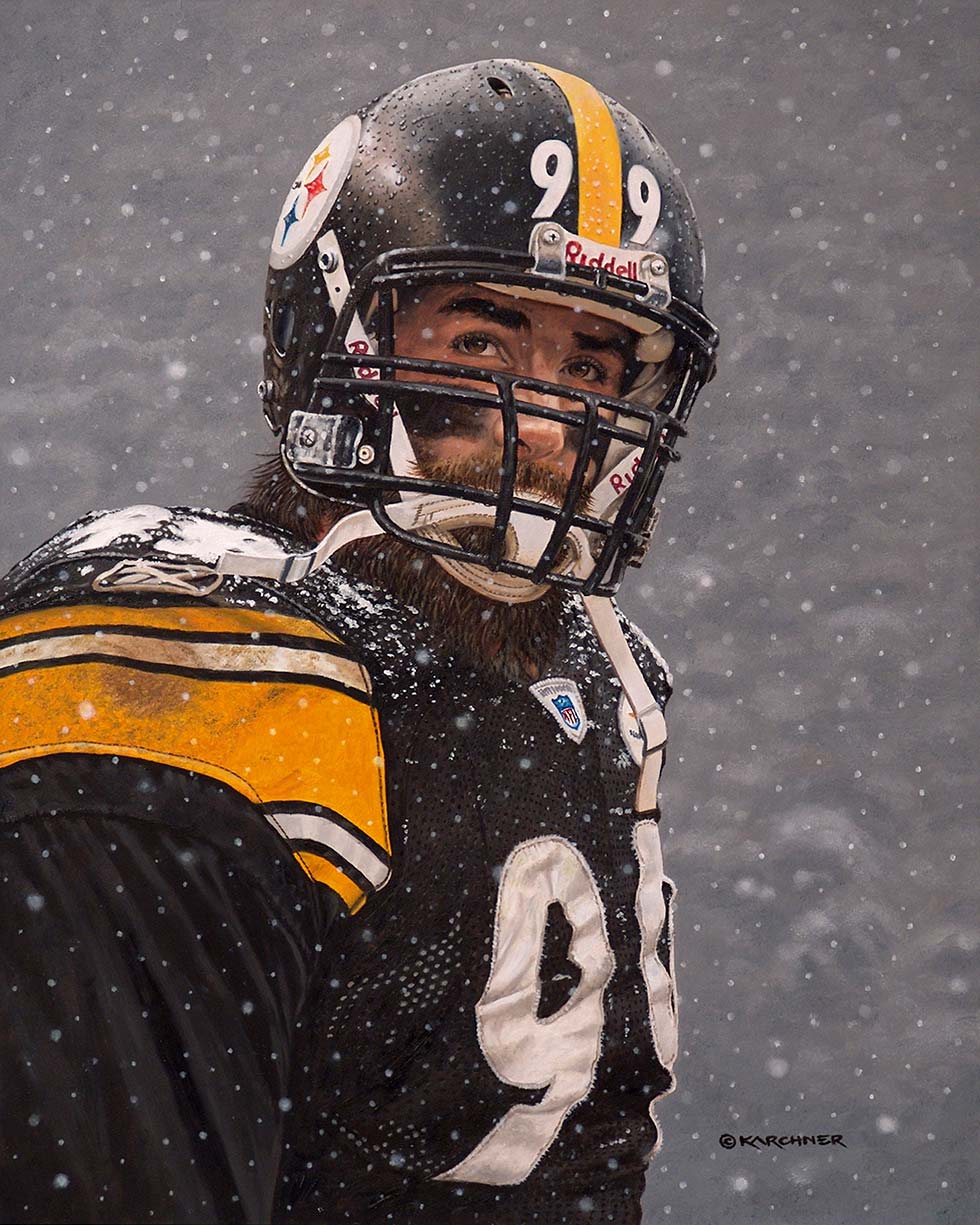 Here are two close-ups of my final version to show all the detail.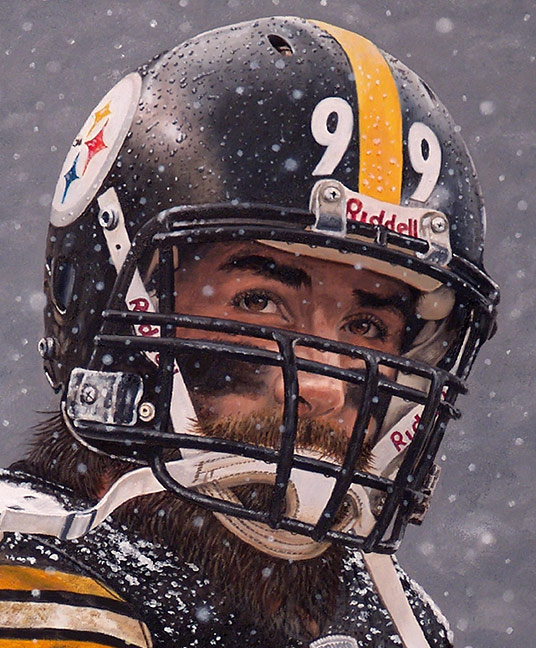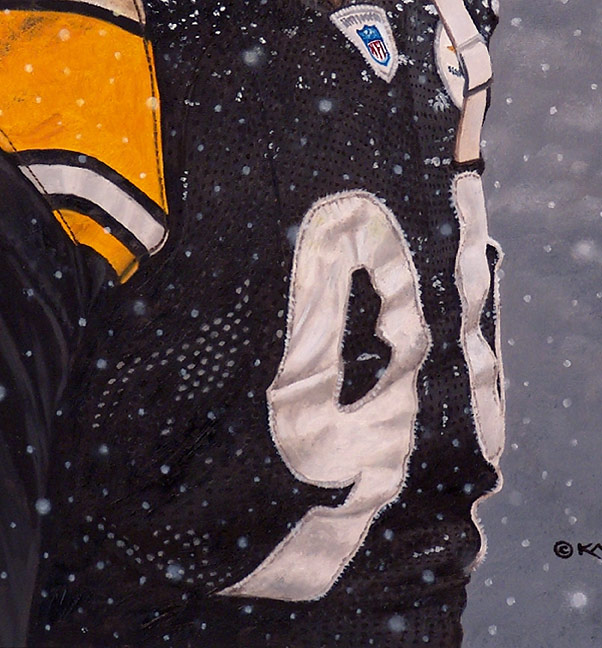 I want to thank Brett for allowing me to paint his image. Also, I want to thank my wife Leigh, for taking her valuable time to photograph all the images. Thanks to my good friend and fellow Pittsburgh artist, Larry Klukaszewski for getting me hooked back up with Brett. Thanks to my good friend and fellow artist, Scott Spillman for all his input. Thanks to all my friends on FaceBook, especially Brett's family that posted such great comments. Lastly, I want to thank Art Rooney, Jr. and all his close friends and family for all their suggestions. If it wasn't for Mr. Rooney, I wouldn't have ever met Brett back in 2007 to make this all possible.
Thanks for riding along. Stay tuned, there are many more of my works in progress to come.
Denny