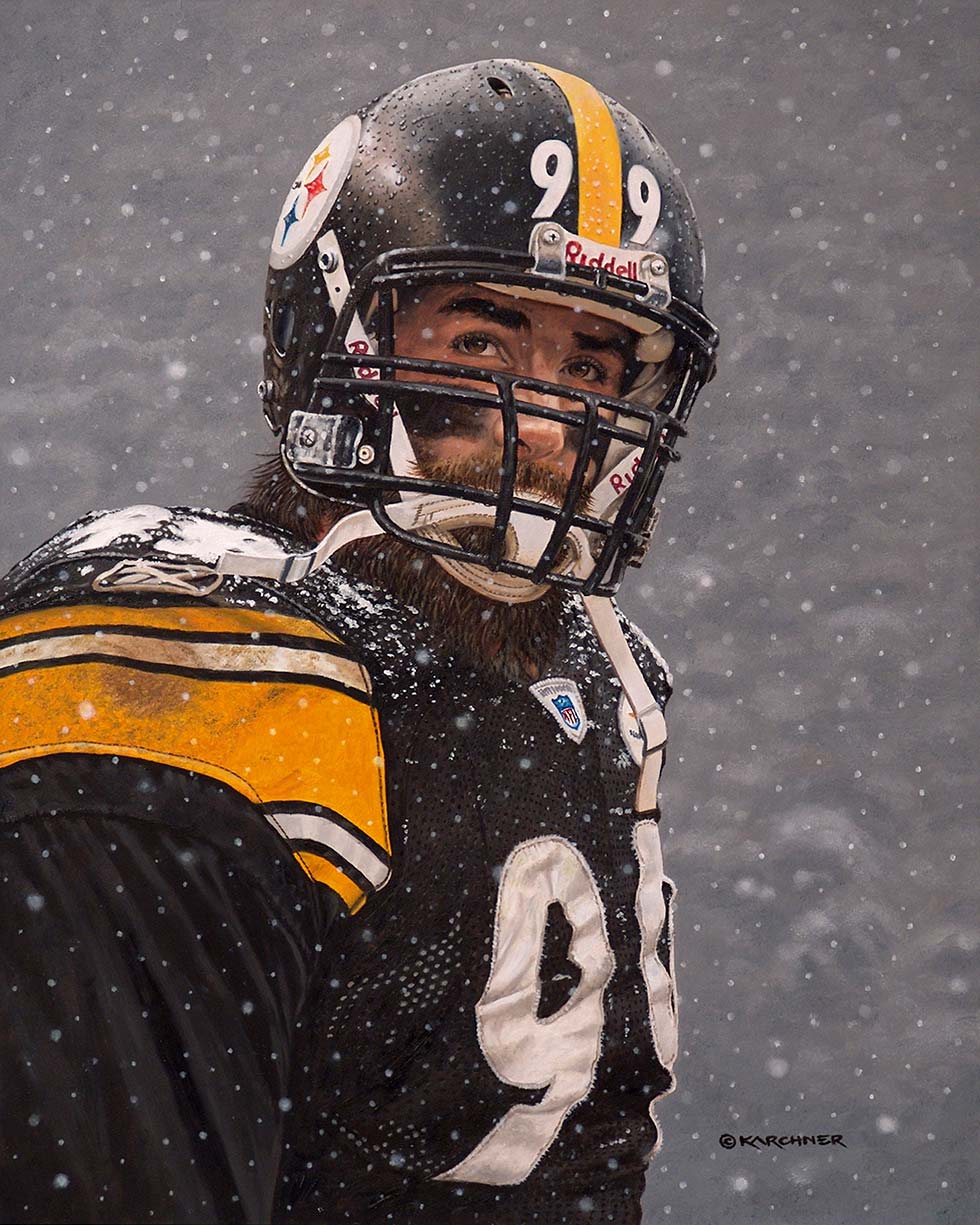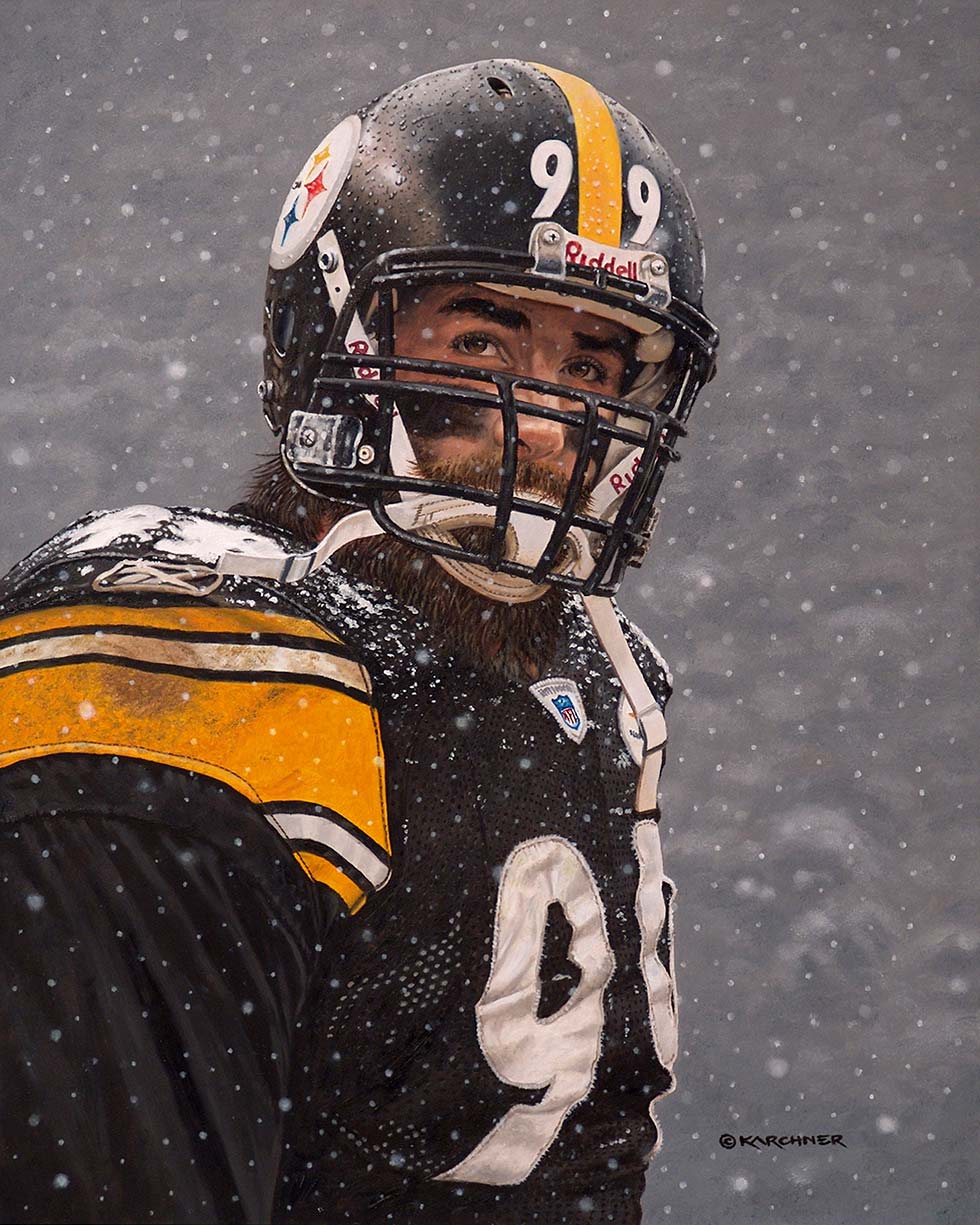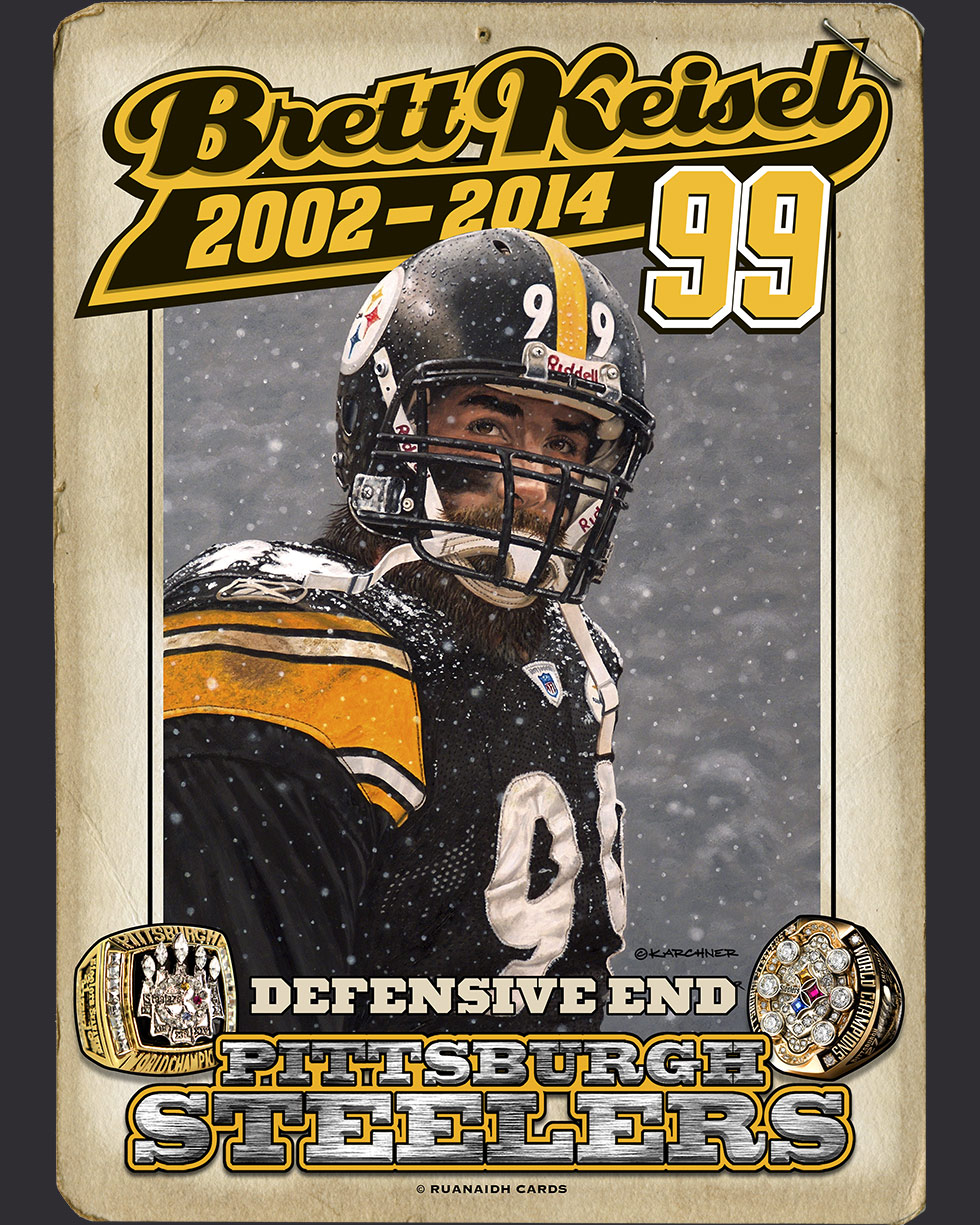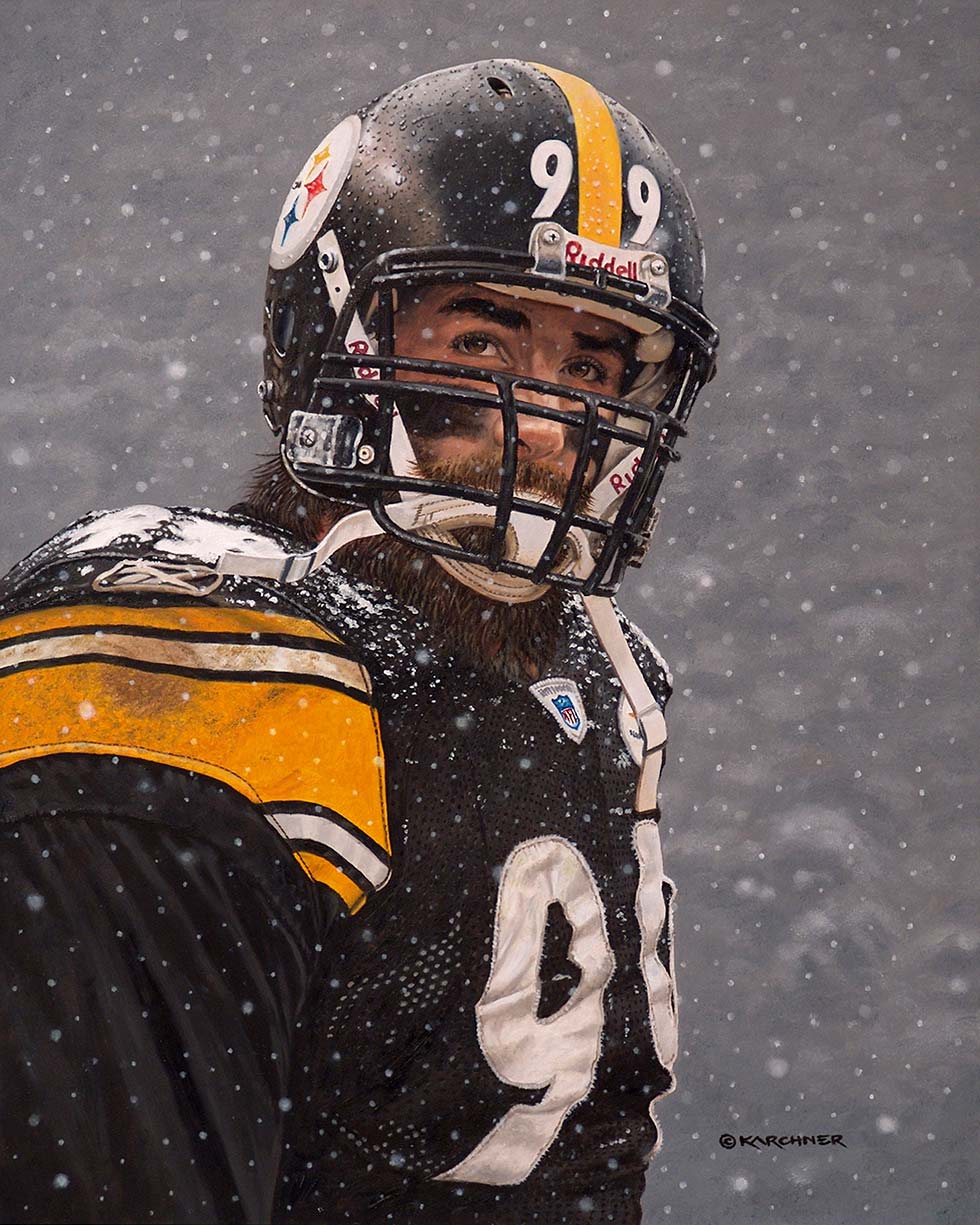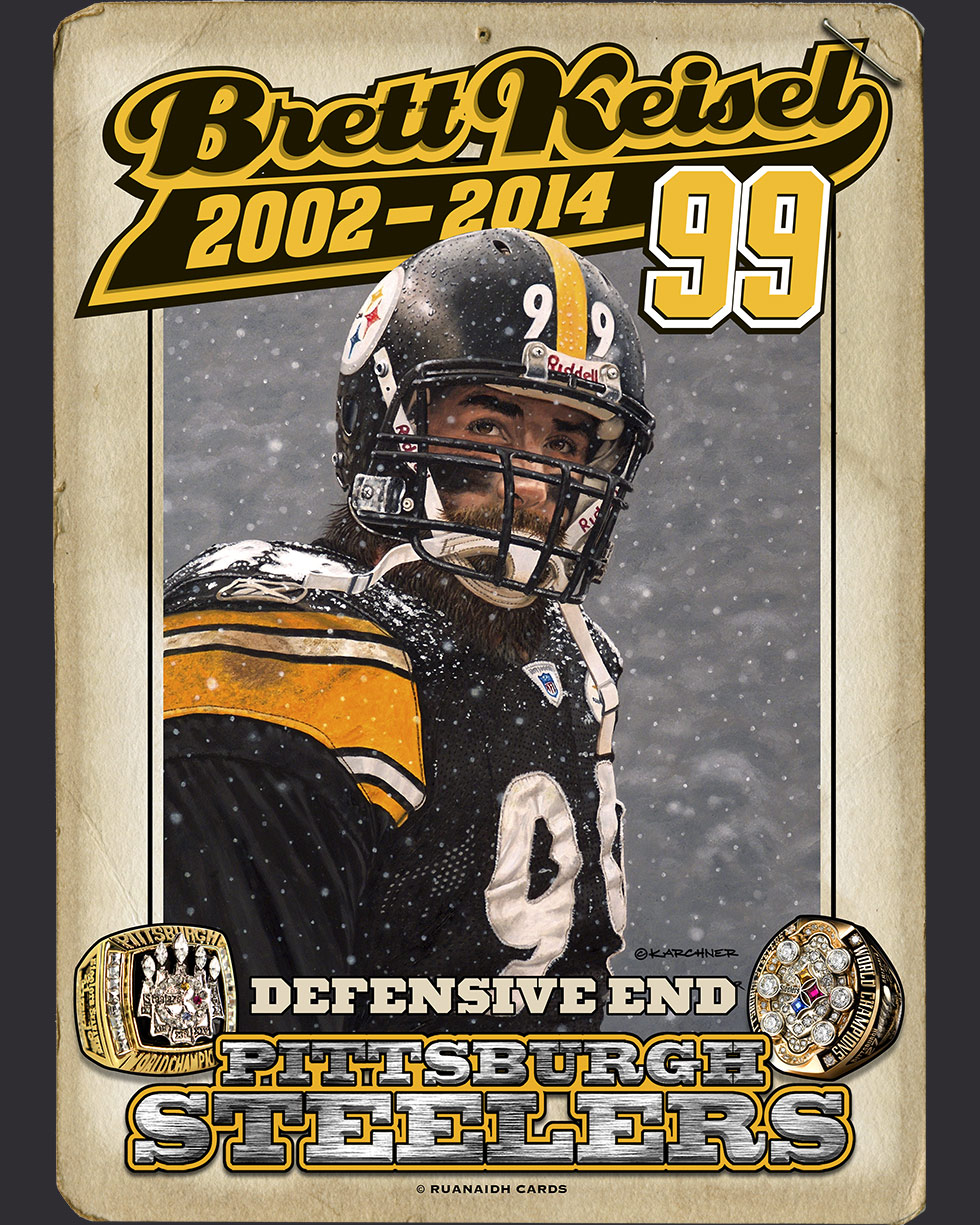 Keisel was selected by the Pittsburgh Steelers in the seventh round (242nd overall) in the 2002 NFL Draft. In his rookie year he made five appearances making four tackles. In 2003 he was on the injured list for the entire season after undergoing surgery on a shoulder injury. He returned in the 2004 season with 13 appearances and nine tackles. The following year, he appeared in all 16 games recording 33 tackles and three sacks, the first of his NFL career. After the departure of Kimo von Oelhoffen via free agency for the New York Jets in March 2006, Brett signed a new four year contract with the Steelers worth a reported 14 million dollars. That season he won the 1st team position at right defensive end and played in all 16 games making 55 tackles and 5.5 sacks, a career high. In 2007, he made 16 appearances recording 39 tackles and two sacks. On August 31, 2009, the Steelers signed Keisel to a new five-year contract worth $18.885 million and includes a $5 million signing bonus. In 2010, Keisel was added to the AFC Pro Bowl roster for the first time in his career.
"The Beard"
Keisel began growing "The Beard" while on a summertime hunting trip with his father. Keisel's facial hair gained fame during the end of the 2010 NFL season. Many NFL players grow playoff beards to bring them good luck, but Keisel's has a significant following. His beard has its own Facebook page and Twitter account and has been mentioned repeatedly in the media during the Steelers' playoff run. In an interview on Steelers.com, he decided to grow out his beard after having a discussion about the lack of characters in the NFL. In another interview, though, to the Pittsburgh Post-Gazette, he said he wanted to change the team's luck, because it missed the playoffs the previous season. Keisel refers to his beard as a "beautiful thing" and "the greatest beard of all time" and has encouraged other Steelers to grow beards as well. After the Super Bowl several videos were made about Keisel's beard. On February 24th 2011, The Beard was removed during a ceremony titled "Shear The Beard" in downtown Pittsburgh. The event raised over $30,000 for the Children's Hospital of Pittsburgh of UPMC. Keisel stated that The Beard will most likely return for the upcoming season. He stated, "The beard will decide when the time is right to come back," he said, "and it will all of a sudden appear."
Write-up courtesy of Wikipedia.
The piece is traditional oils on the Ampersand "Gessobord" Masonite. Measures 16″ x 20"
Original has been sold.
Inquire today about purchasing a signed and numbered print. Call 307-899-2052 or email.
Visit da beard.