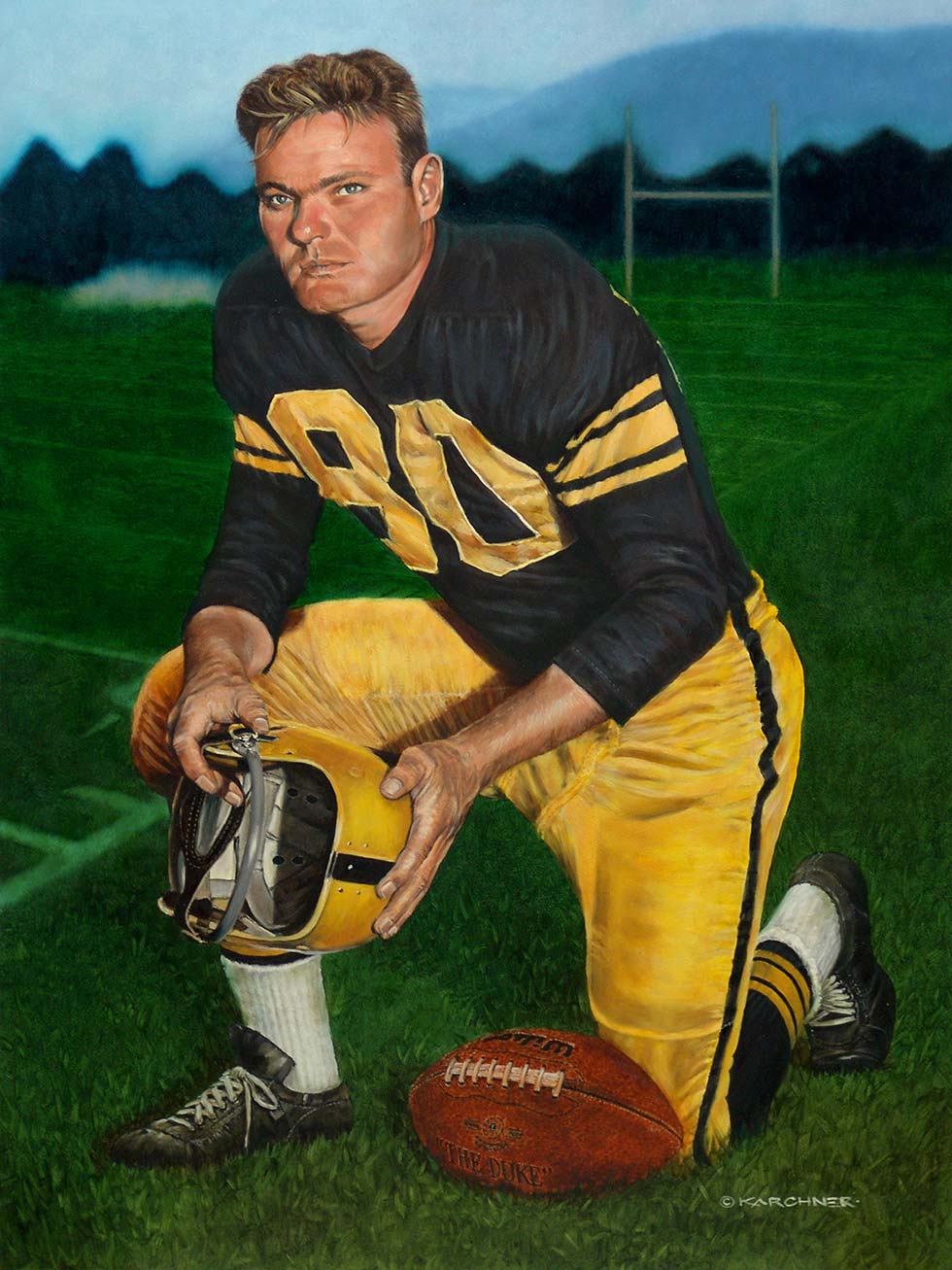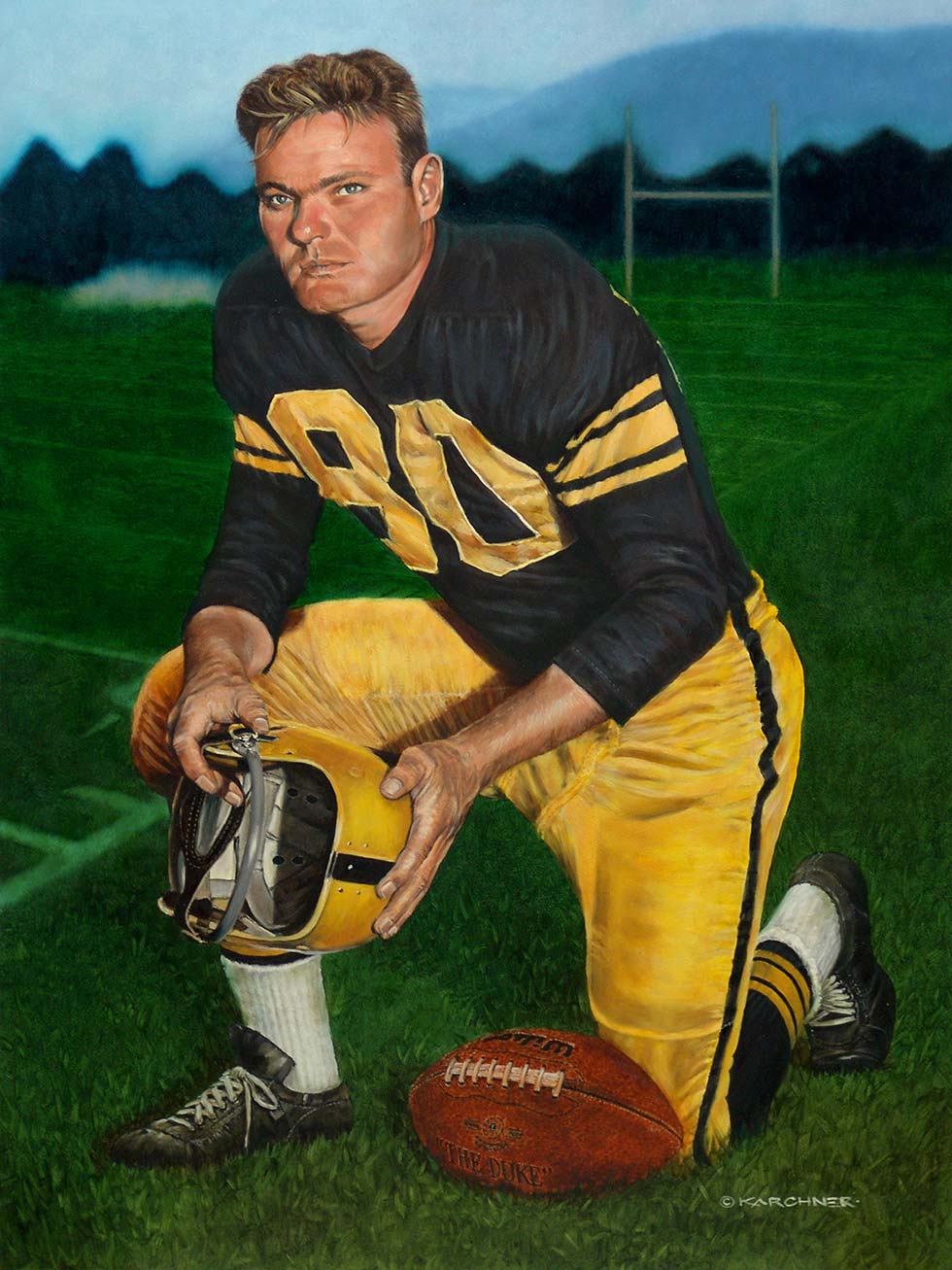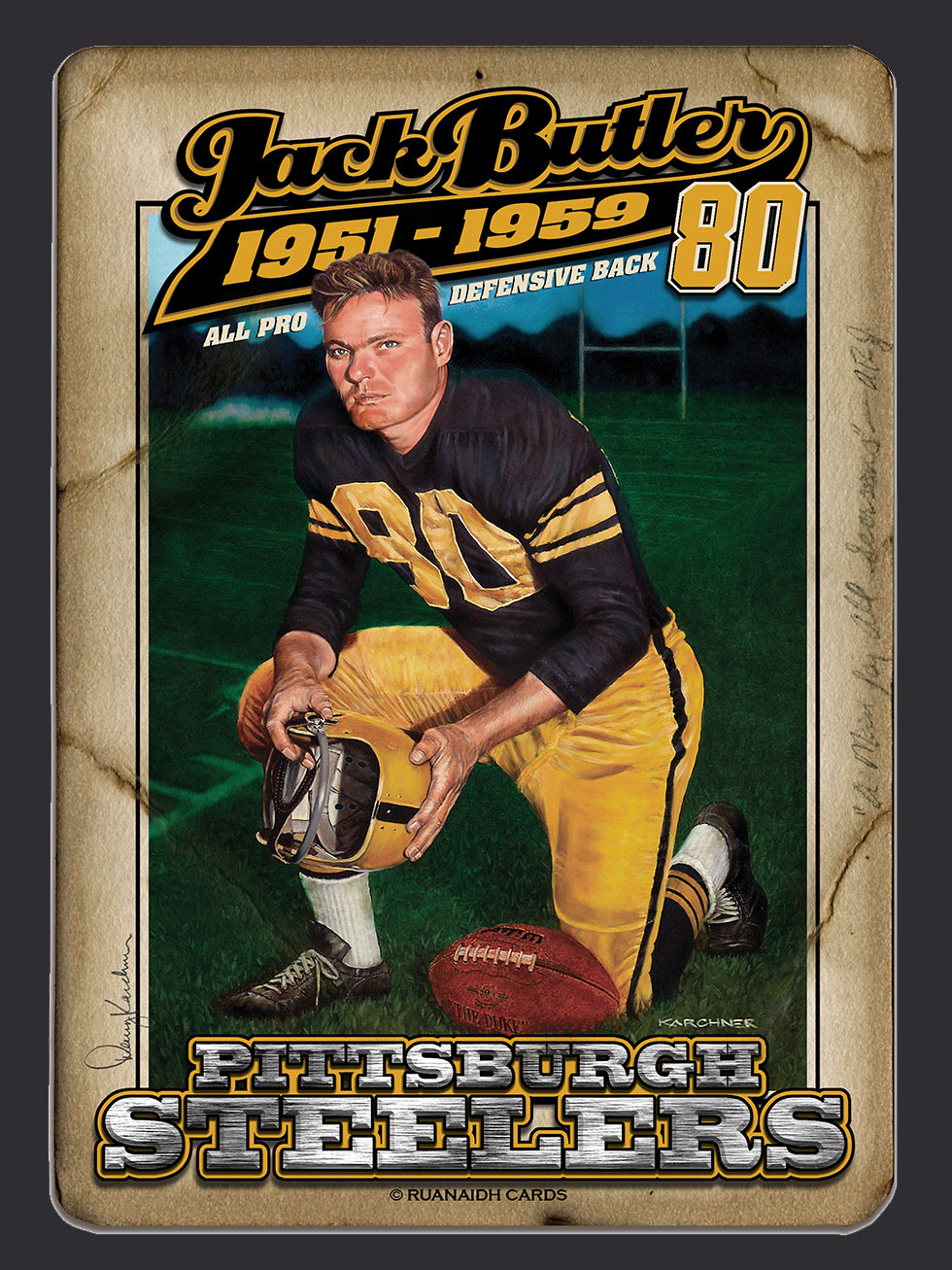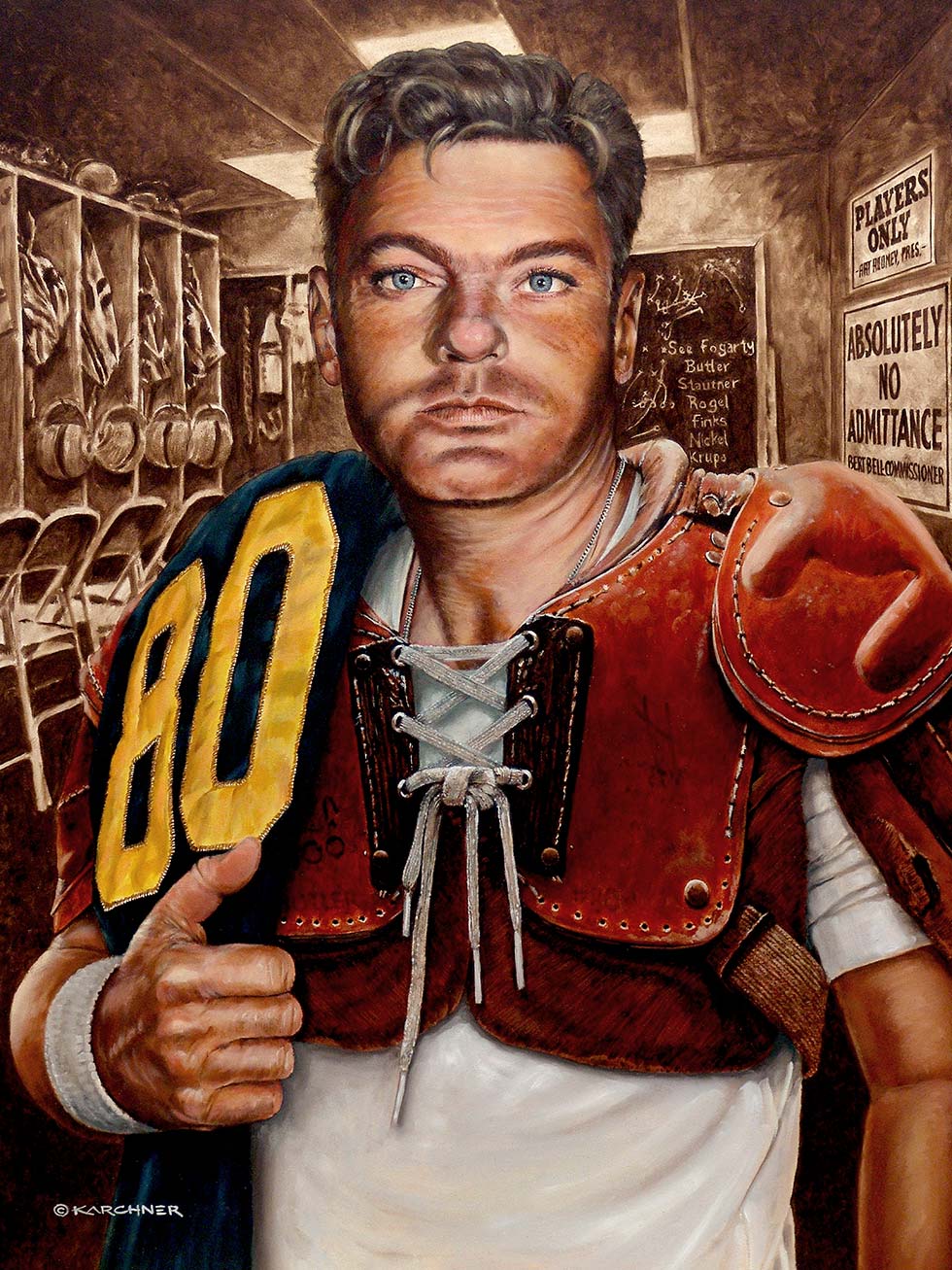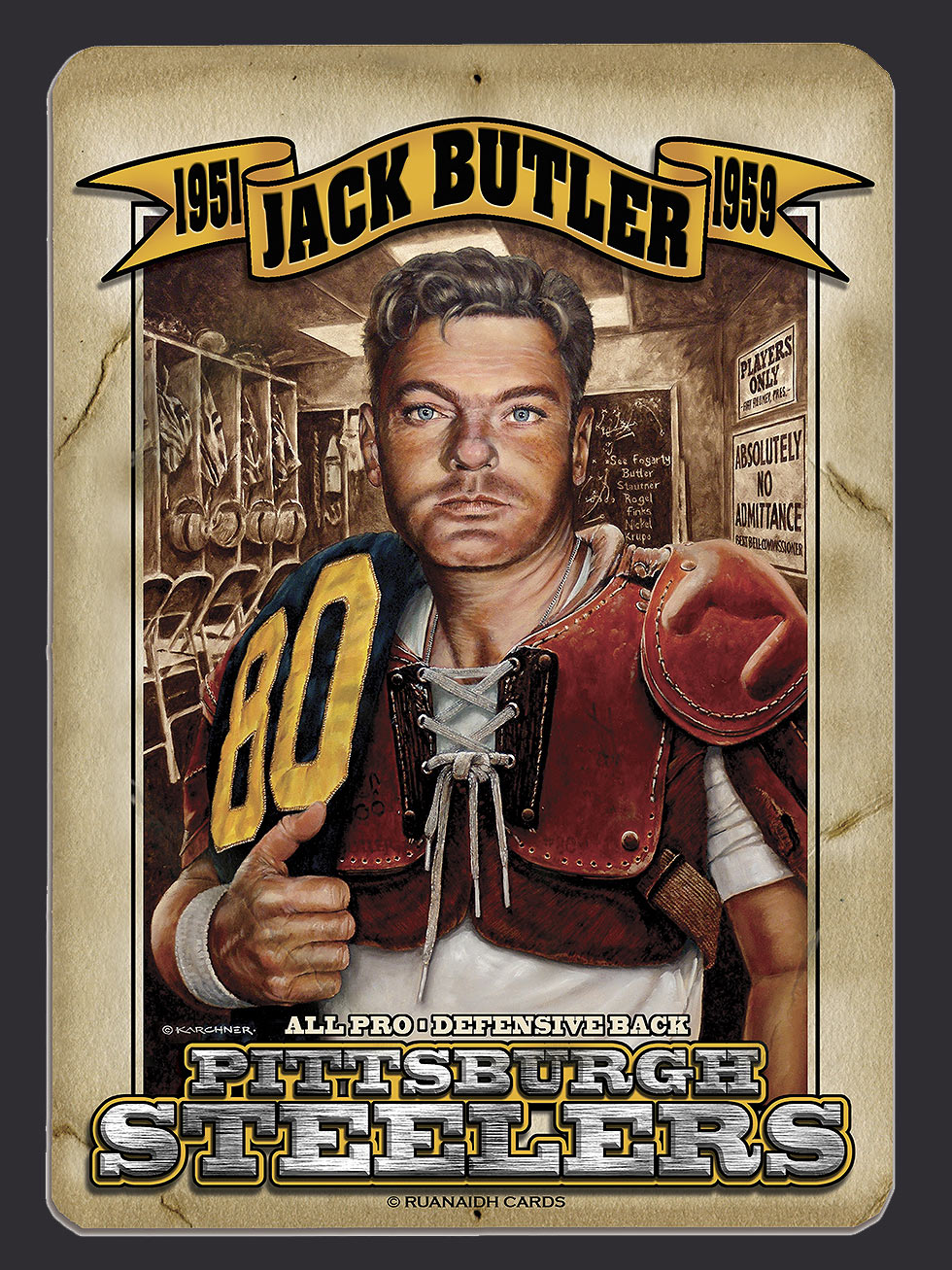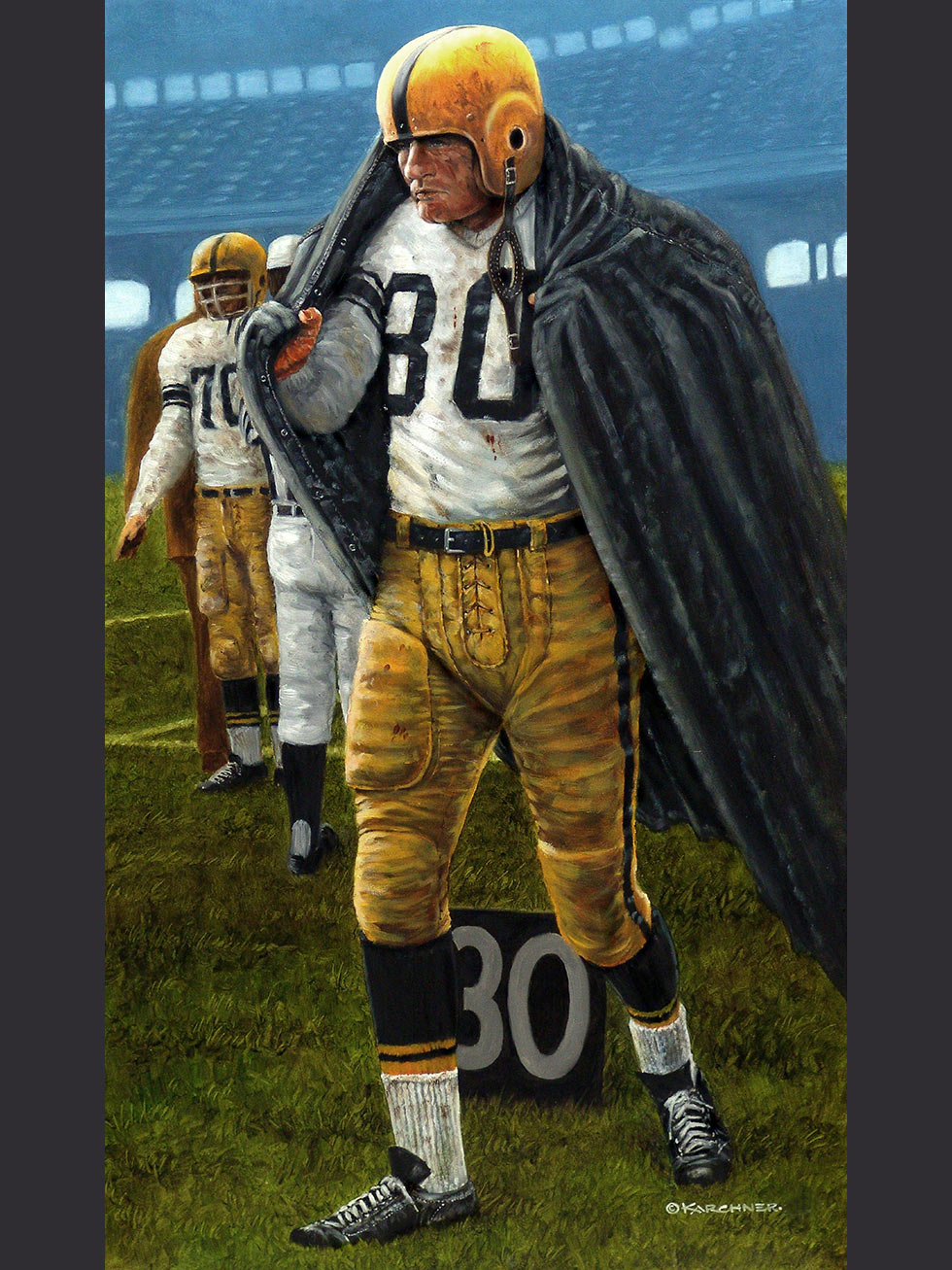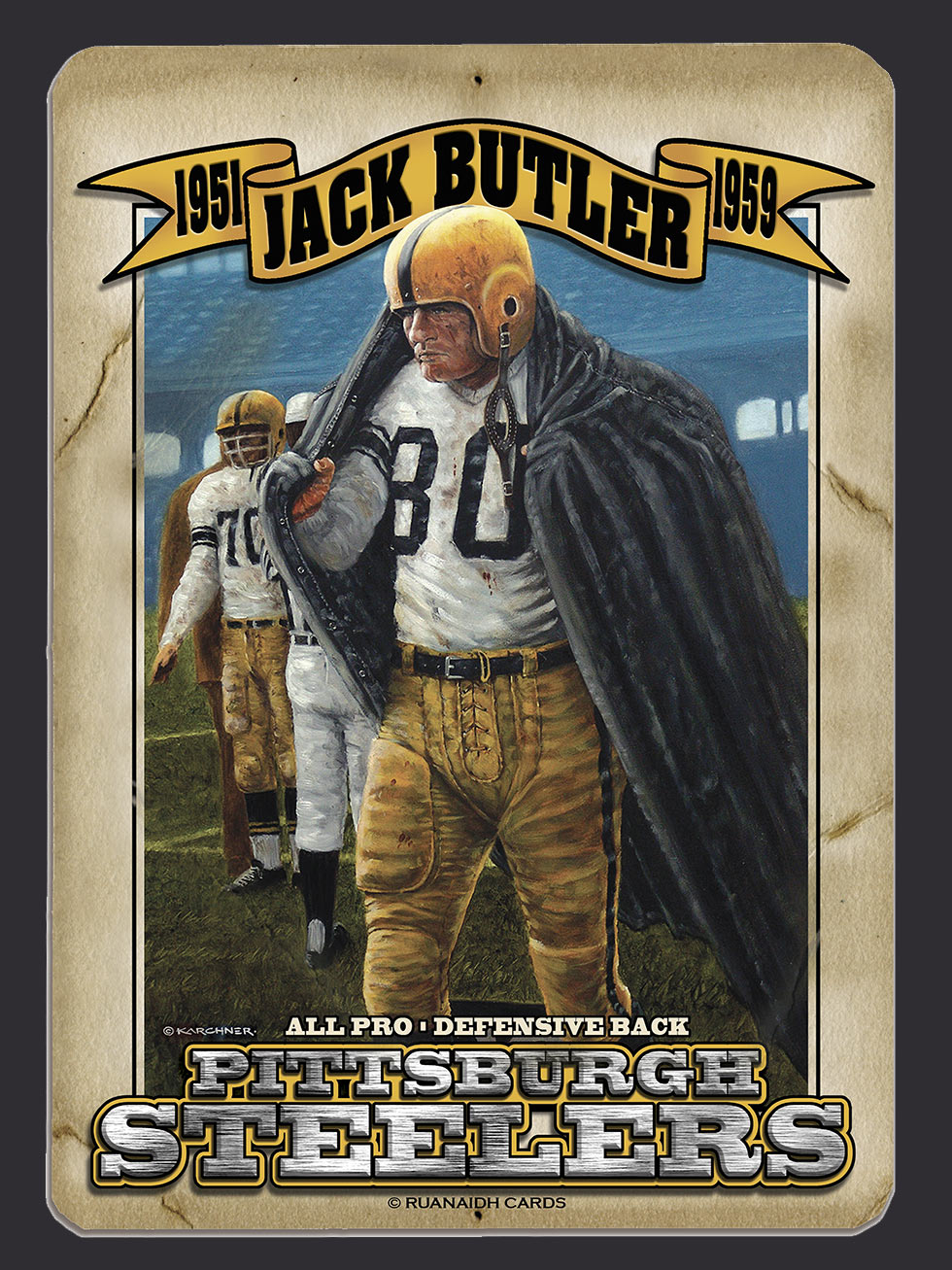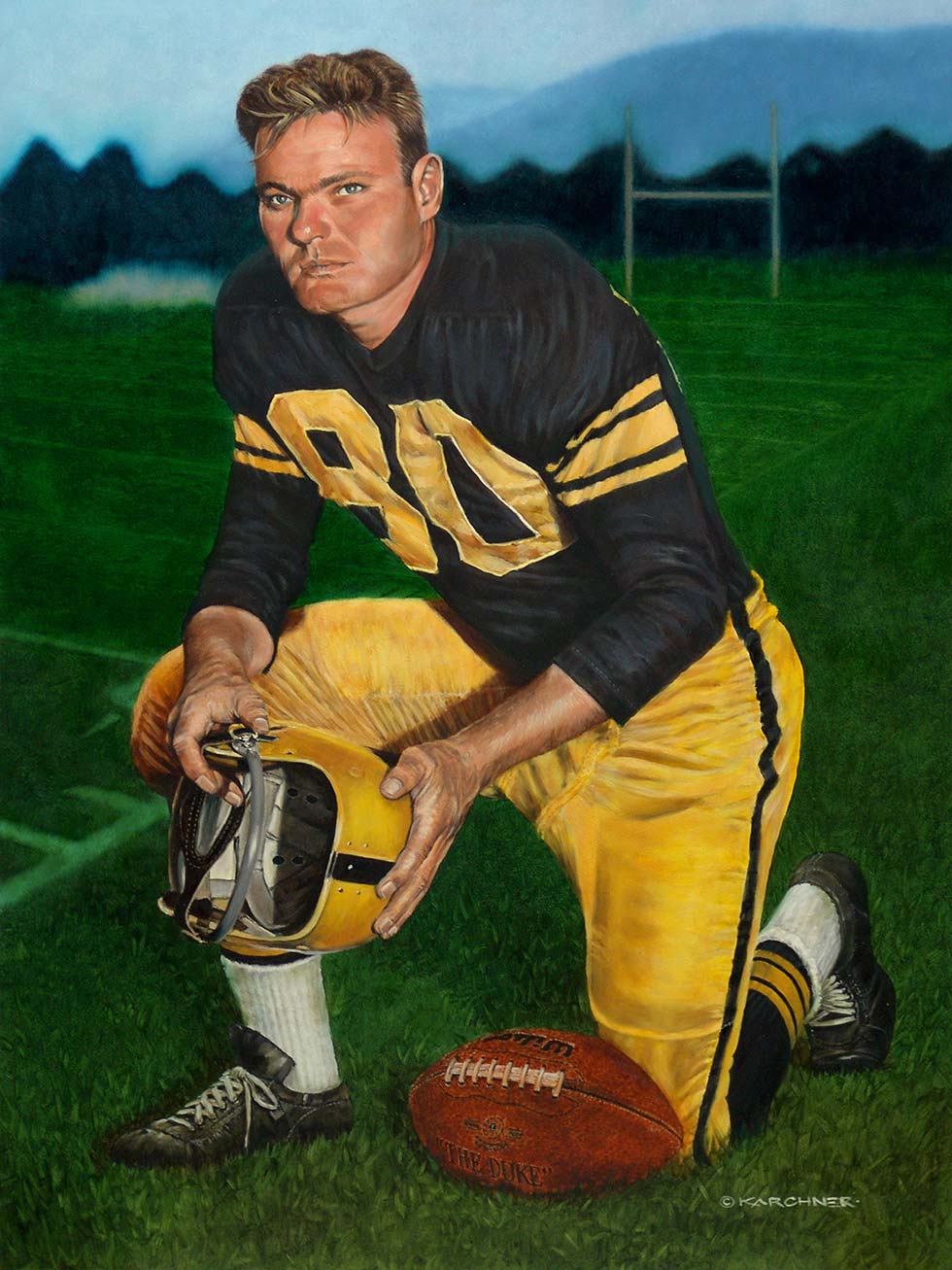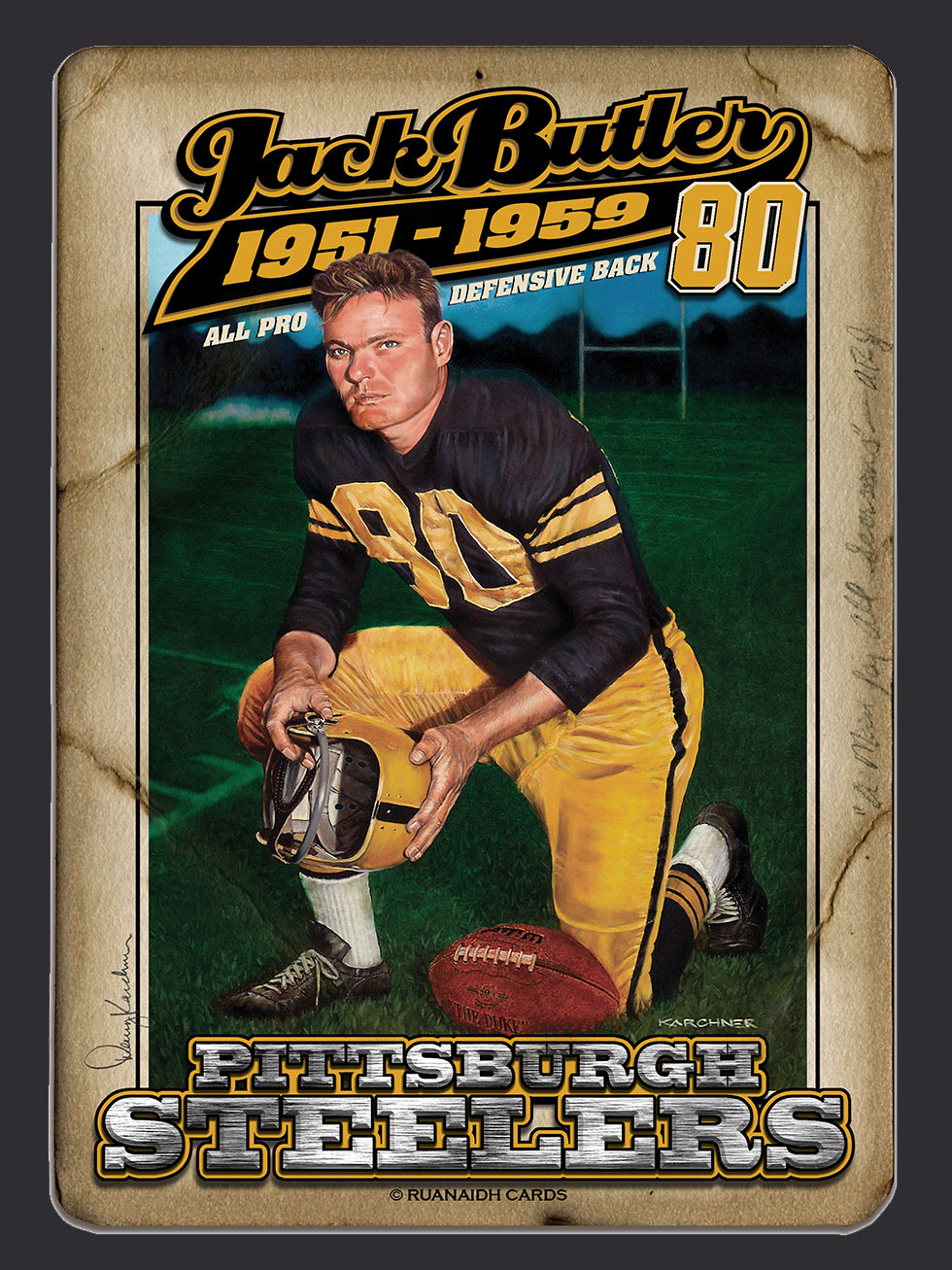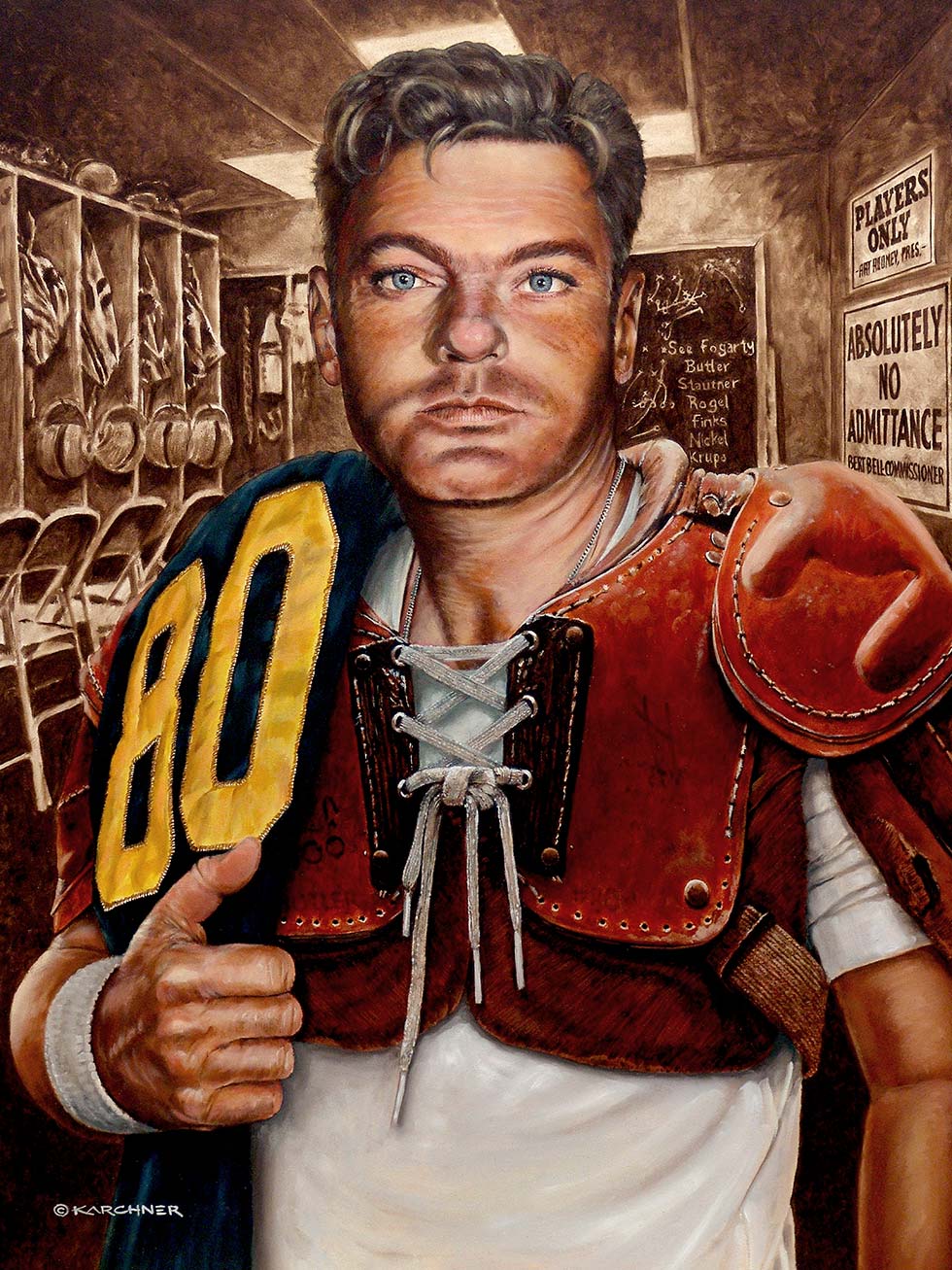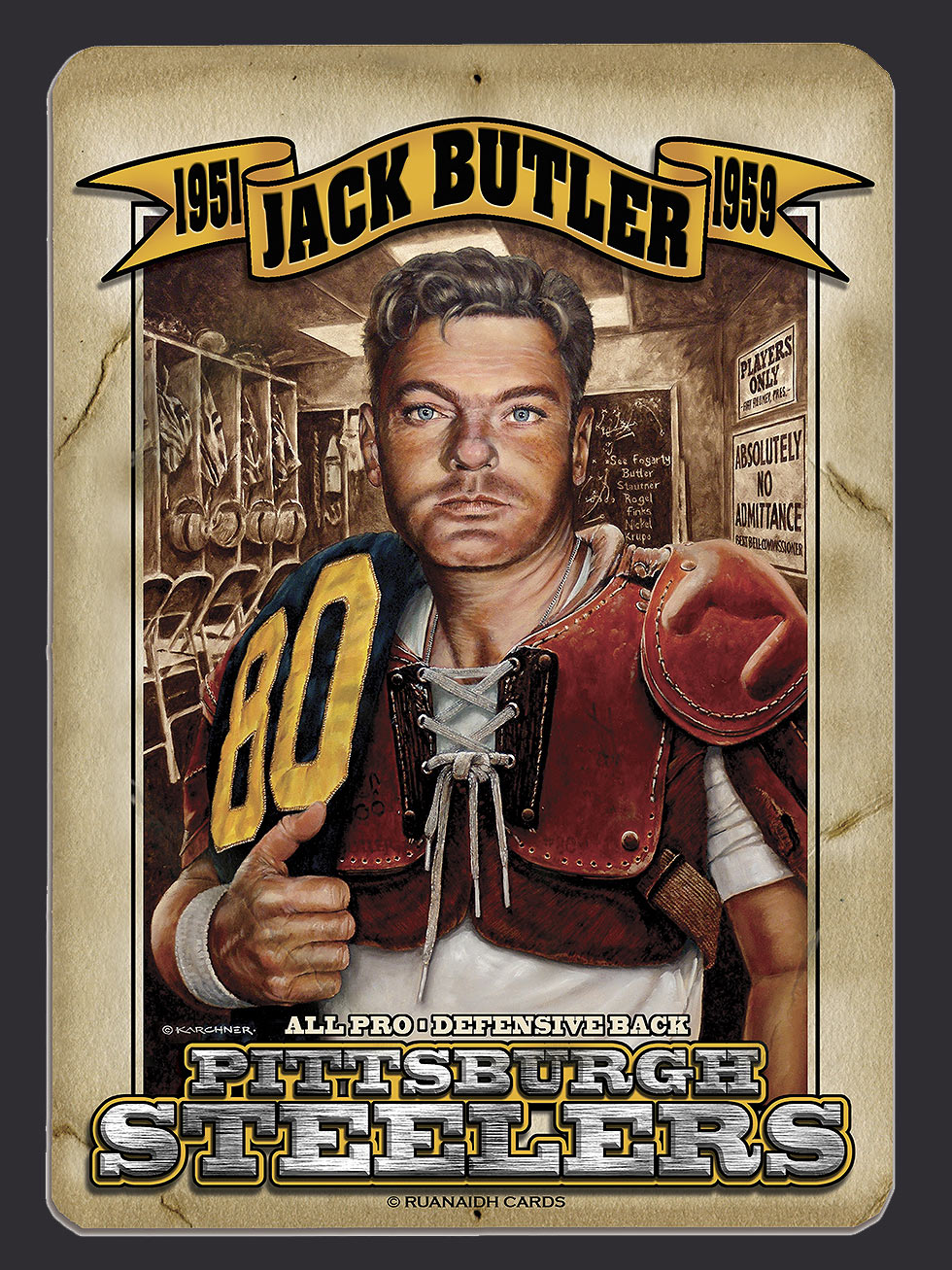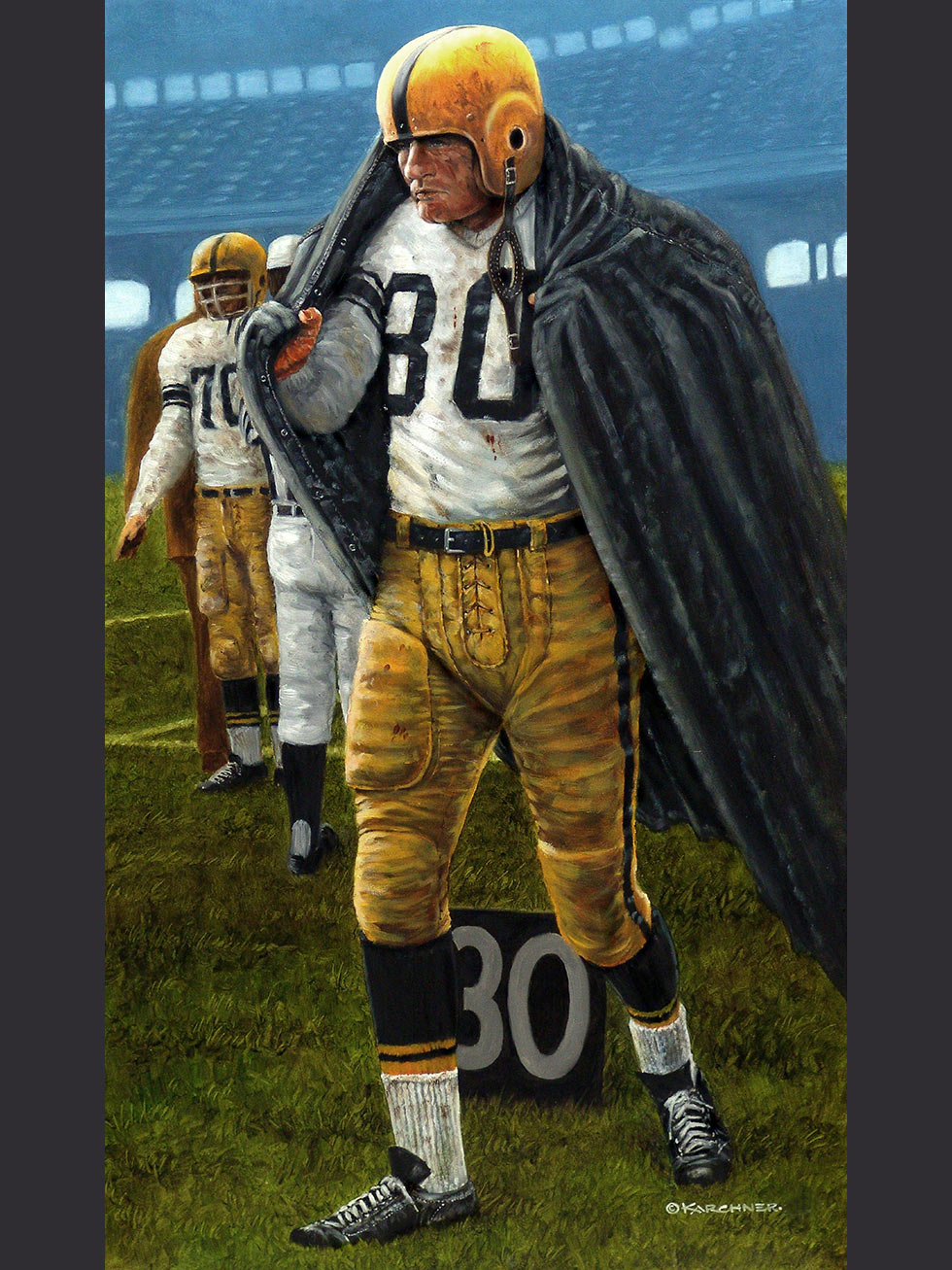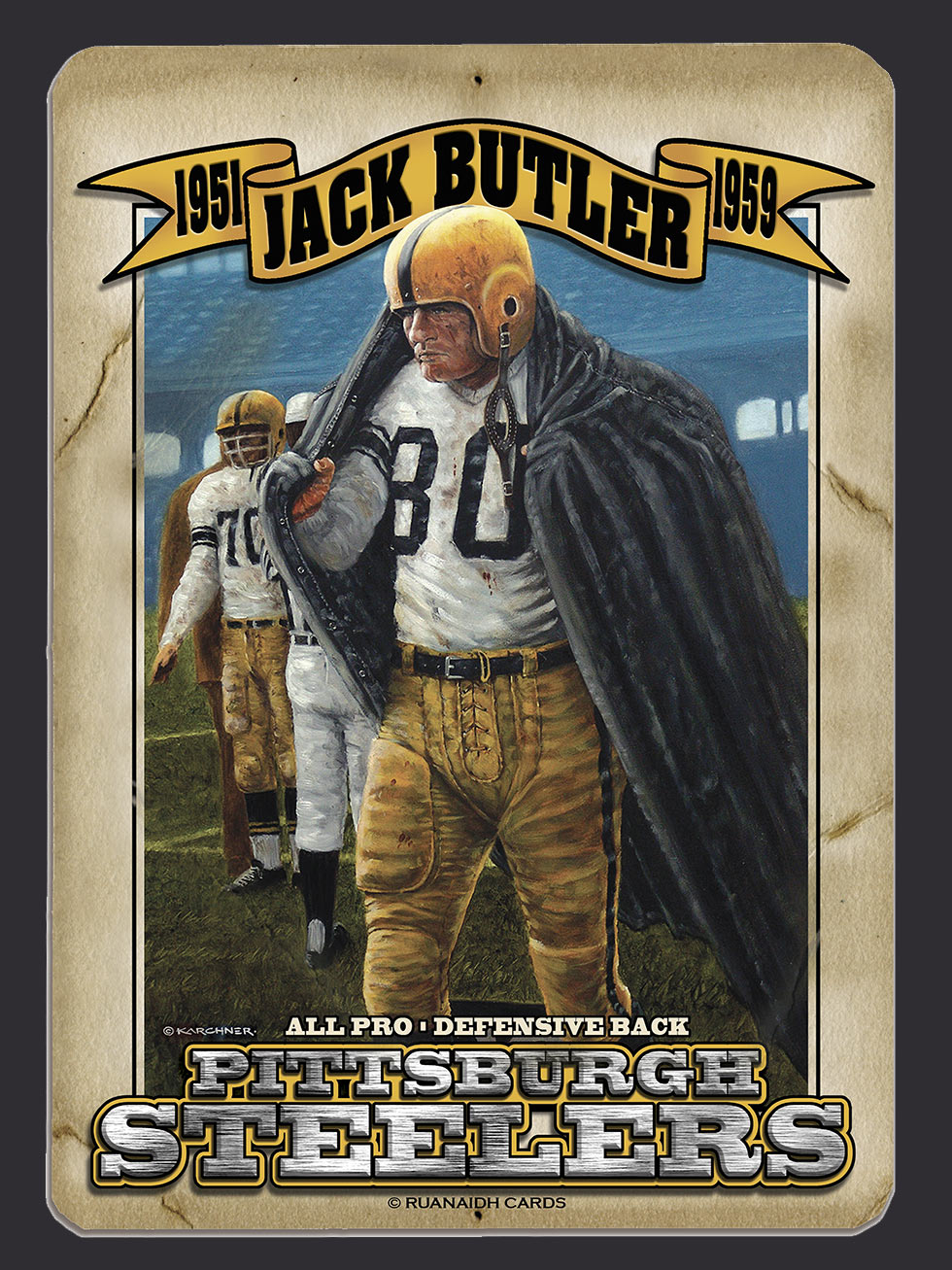 Jack Butler never played high school football. He attended a seminary to study for the Catholic priesthood. Later, he instead pursued another vocation but truly did not foresee what the future held for him. While attending St. Bonaventure University in Olean, NY, the Athletic Director approached Jack about trying out for the varsity football squad. The Director recalled playing sand lot football with Jack's father back in Pittsburgh, PA. He told Jack that his dad was a fine player and maybe young Jack had inherited some of that talent from his dad. That Athletic Director was Father Silas of St. Bonaventure. Father Silas — also known as Dan Rooney — was the brother of Art Rooney, Sr. "The Chief" — owner of the NFL team The Pittsburgh Steelers.
Jack Butler developed into a fine defensive end and receiver. He was called by the Steelers for a try-out. At that time, the Steelers still played the single wing offense. Butler ended up as a defensive end. He proved himself to be a gifted athlete and a very tough one too. Near the end of that 1950 season, injuries to a teammate forced Butler to move into the defensive backfield. In the short time left to play that season, number "80" played so well that he then assumed that position and prevailed for the next eight years.
Jack Butler was All Pro, named to the Pro Bowl four times; intercepted 10 passes in one season, four of them in one game; filled in as a wide receiver and scored a couple of touchdowns. He was the second leading pass interceptor in the NFL at that time with a total of 52, all achieved in only 8 years of play. His brilliant career ended after a crippling knee injury in his ninth season. Later, Butler was named to the NFL 1950's "Team of the Decade." He was also named one of the top 300 players to have ever played in the NFL, the "All NFL First 50-Years" team, and the "All-Time Steeler Team."
Following his playing days with the Steelers, Butler coached with the Buffalo Bills and the Pittsburgh Steelers. His leg injury cut short an NFL coaching career. He became a Steeler talent scout for a few years before joining the newly created Blesto Scouting Group.
After a year or two, Jack became the Director of the organization and later its' President. He has scouted or influenced the scouting of over 30,000 college football players to date.
Nearing his retirement, these three portraits of number "80" commemorate his brilliant career in the NFL as a player, coach, scout and executive. He has been married to his wife, Bernadette, for over 50 years. They have 8 children and numerous grand children. Jack Butler is honored as an exceptional athlete and truly as "A Man For All Seasons." – Art Rooney, Jr
This collector card (which is actually poster size) hung in the Western Pennsylvania Sports Museum in Pittsburgh Pennsylvania and the NFL Hall Of Fame in November 2007, to commemorate the Pittsburgh Steelers 75th anniversary.
Jack Butler's family and friends are hoping to raise awareness among the NFL Hall of Fame voters concerning Jack's exceptional 56 year career in professional football. We all feel that he has been overlooked for admission to the Hall of Fame, and are beginning to actively campaign for something we believe he has earned and rightly deserves.
Please review the information on his website: www.jack-butler.com