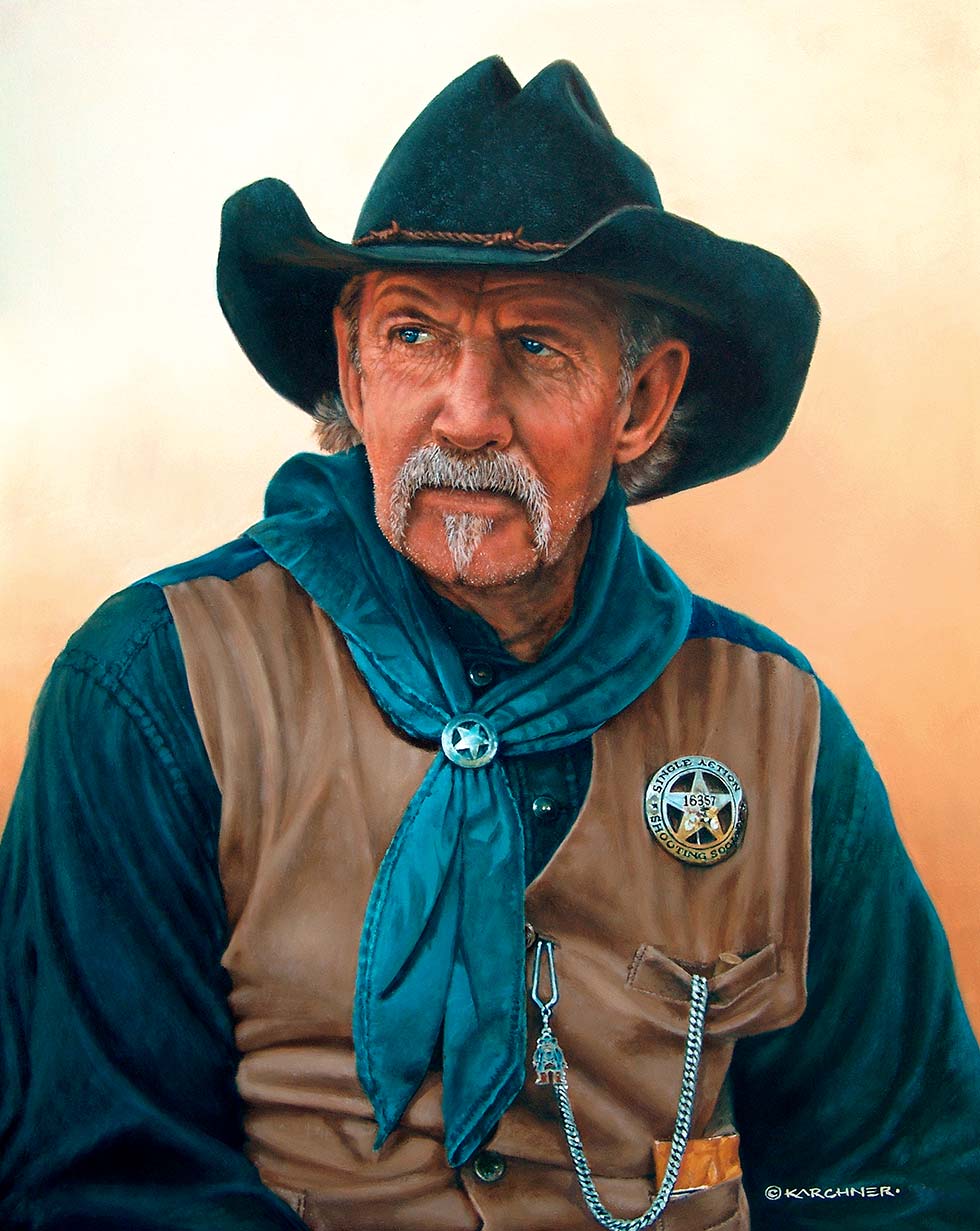 This is my good friend, Gordon Bond of Land Of Lakes, Florida. Shiloh Jasper Green as he calls himself, is a member of S.A.S.S aka the Single Action Shooting Society that is a national group who are quick draw artists and shooting competitors.
Here is day one. This is a 16″ x 20″ portrait with the background roughed in. I am painting with traditional oils. This painting is on museum-grade Masonite made by Ampersand. It has a white, textured clay surface and covered with white gesso.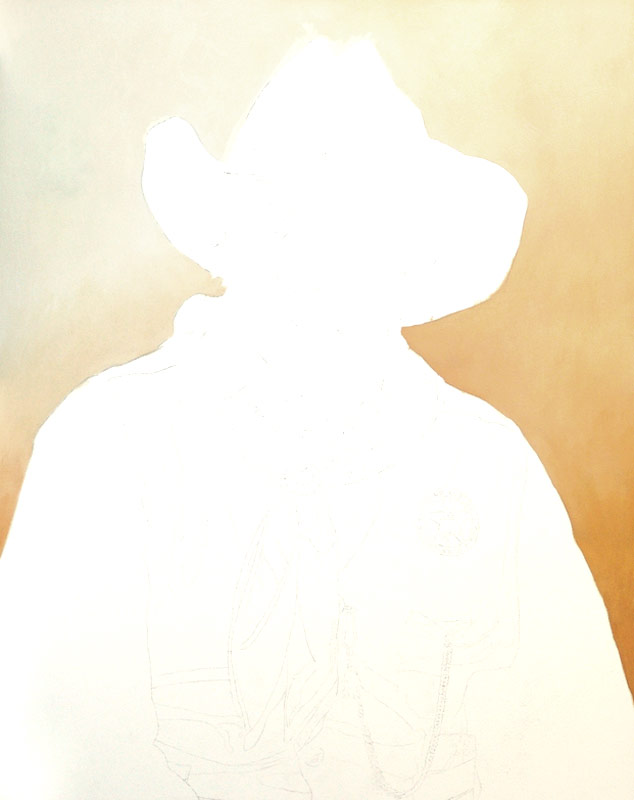 Here is day two. I had managed to get Gordon's face all roughed in.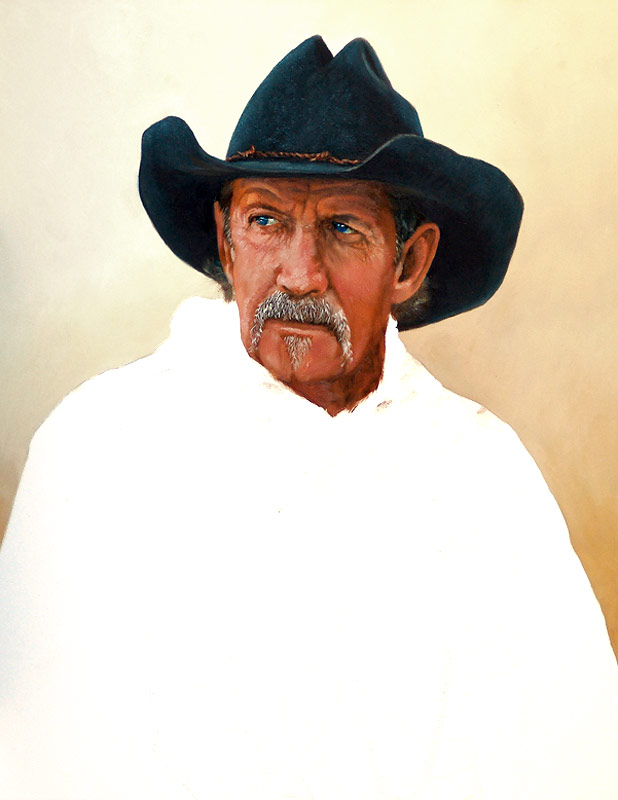 Here is a close up of Gordon's face after smoothing his facial tones with a dry brush. My wife Leigh took the reference photograph that I used to paint from. If you closely at Gordon's right eye, you will clearly see the beautiful orange sunset, trees and sky reflected there.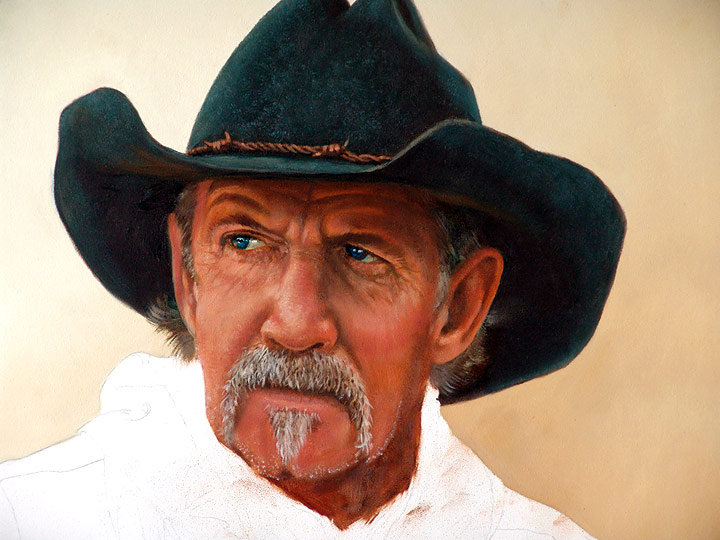 Day three. I have roughed in the base coat for Gordon's bandana and metal star concho.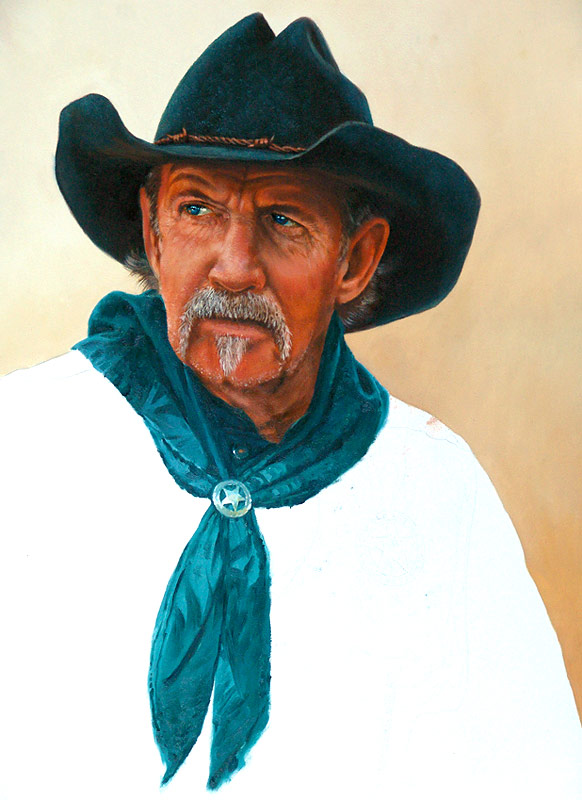 Here is day four. You can see that I have painted in my basecoat for the shirt and vest.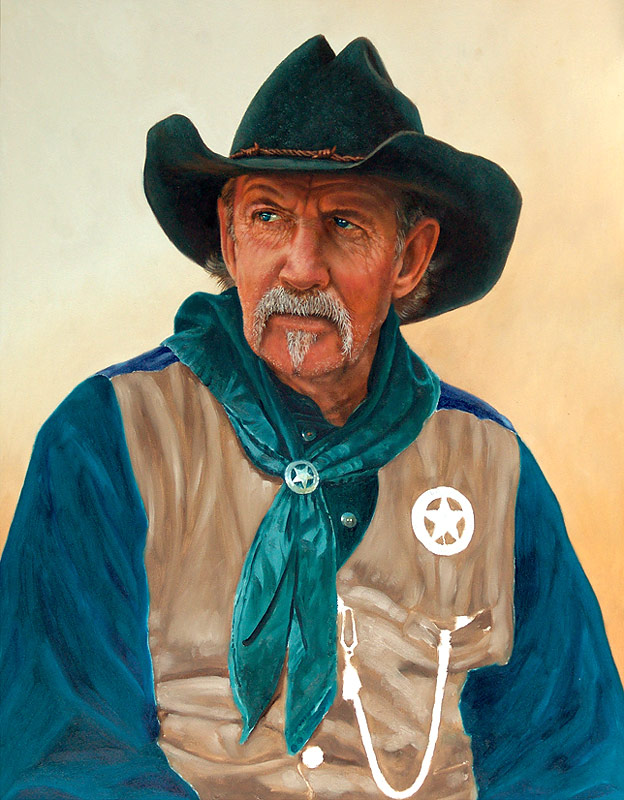 Day five. I laid down what are the heavy shadow areas of the shirt and vest. I also roughed in the pouch of Gordon's Levi Garrett chewing tobacco sticking out of his vest pocket.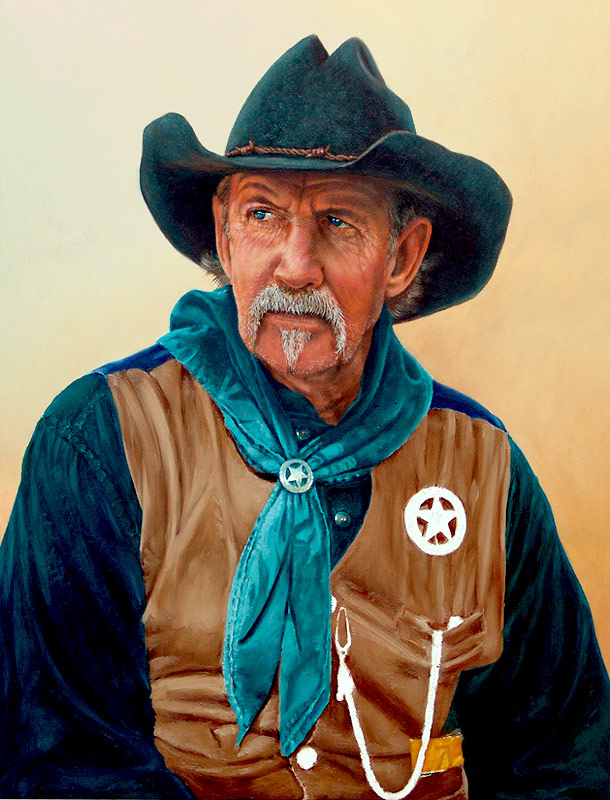 On day six I have finished all the details on the shirt and vest. I have painted in Gordon's S.A.S.S. badge that all members wear. Each member has one that is exclusive. Also, each member has their own number. If you look on one of the close-ups below, you can see clearly that Gordon's member number is 16357. Also you will notice that in the reflection, you will see the blue sky reflecting on the top of the metal and the bright yellow of the fall grass at his feet reflecting on the bottom part of his badge.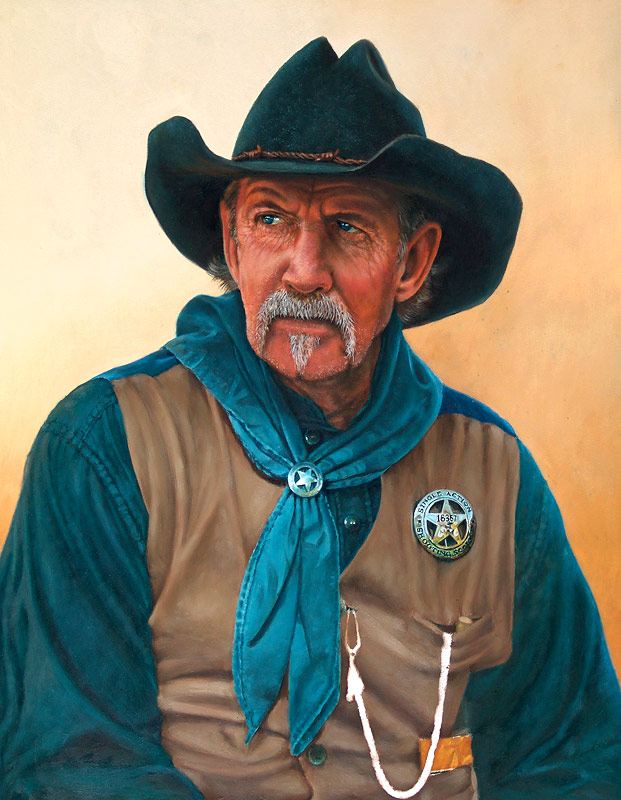 On day seven I finished up the portrait by painting in the chrome link chain that has Gordon's watch on one end in his pocket and the metal, enameled S.A.S.S. logo on the other end. If you look, you will see the end of a special stick in his vest pocket. This is used to remove the spent primers of his Navy Colt Revolver that he uses for his competition shoots.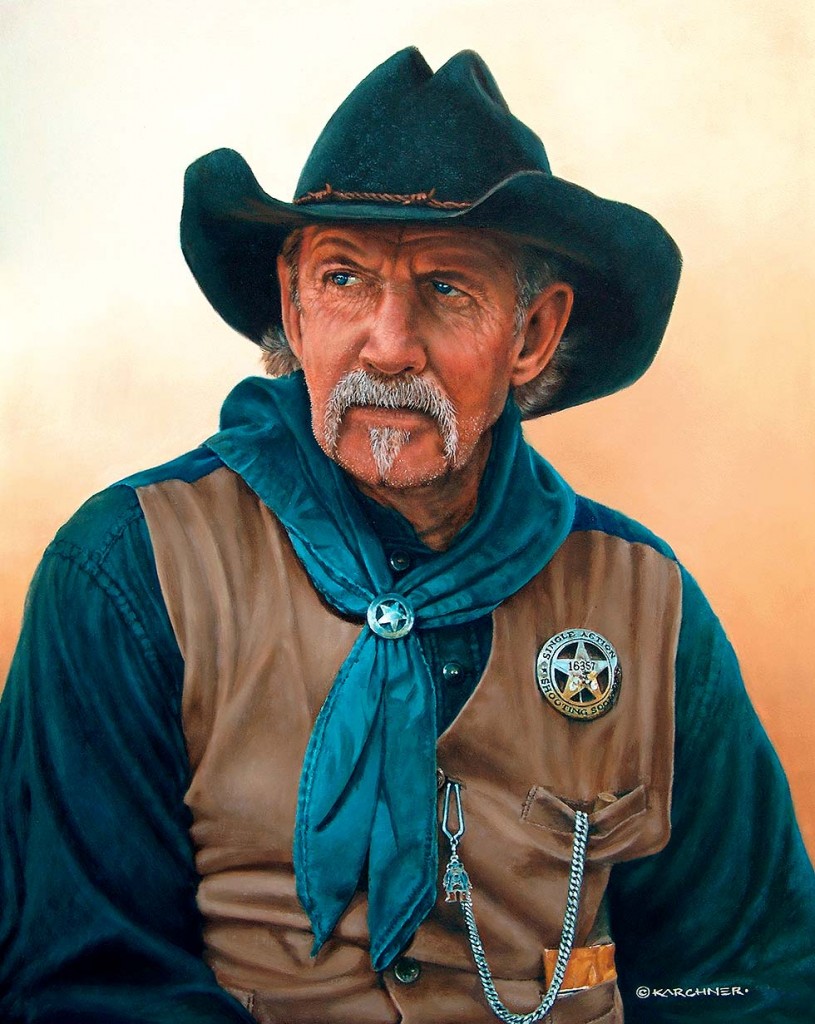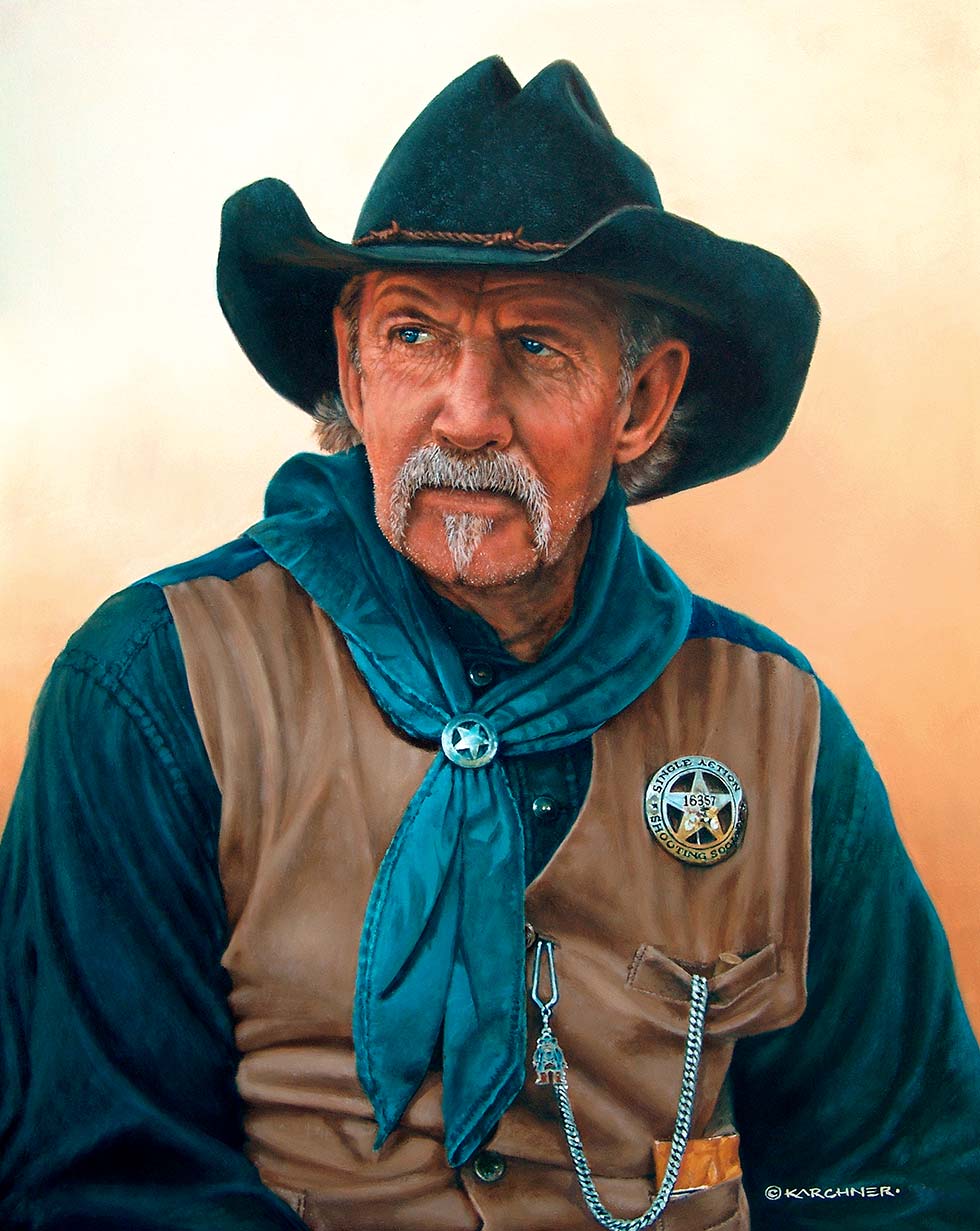 Final photo.
Here are three close-ups.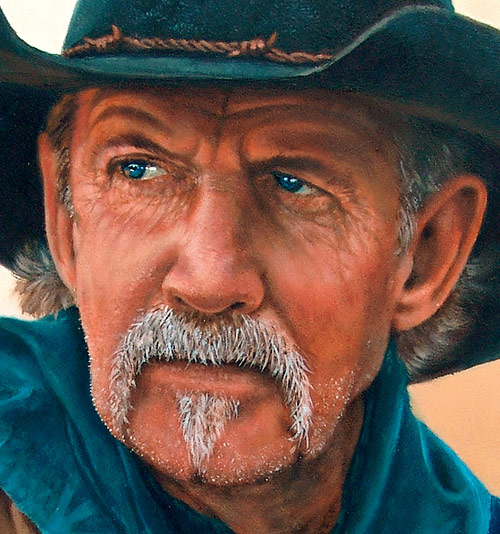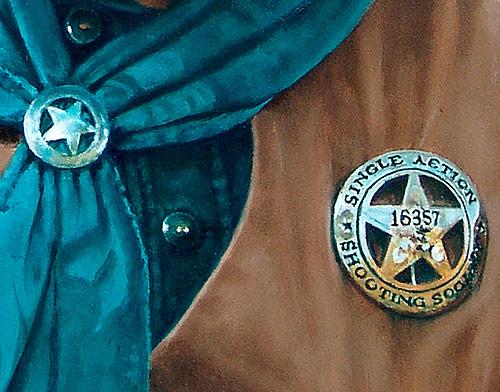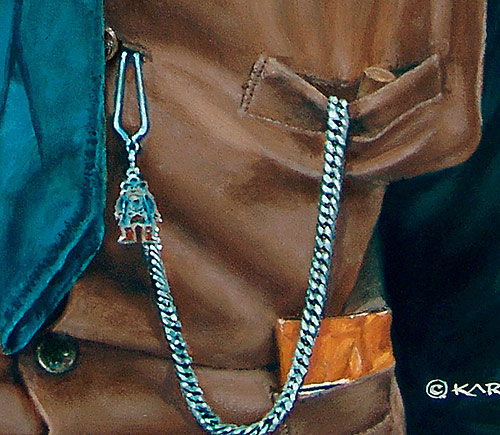 Gordon was so pleased with my effort that he asked to have his picture taken with the piece. You can see, even in real life, his face has so much character… I had to add nothing.
I want to thank Gordon once again for posing for me and becoming one of my good friends. As he signs all his emails to me, Pards for life!!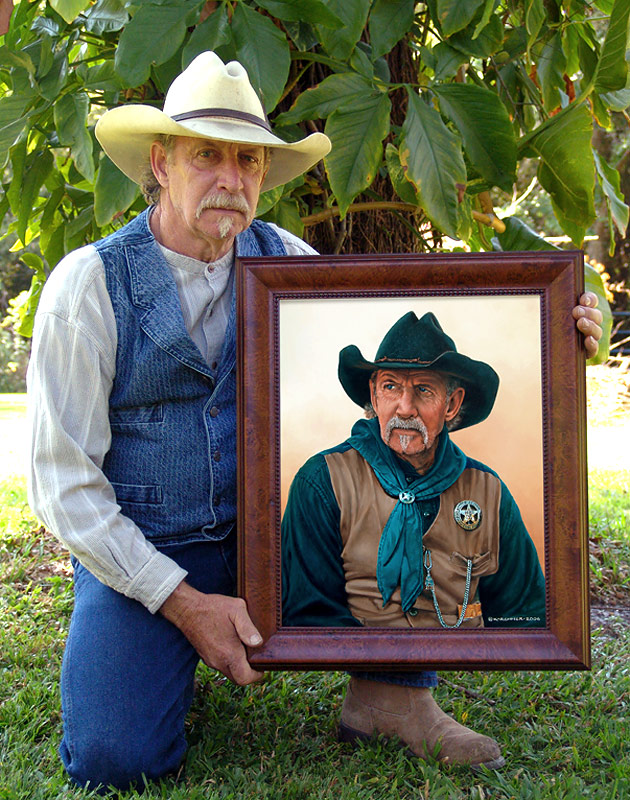 Thanks for looking! Stay tuned, there are many more of my works in progress to come.
Denny