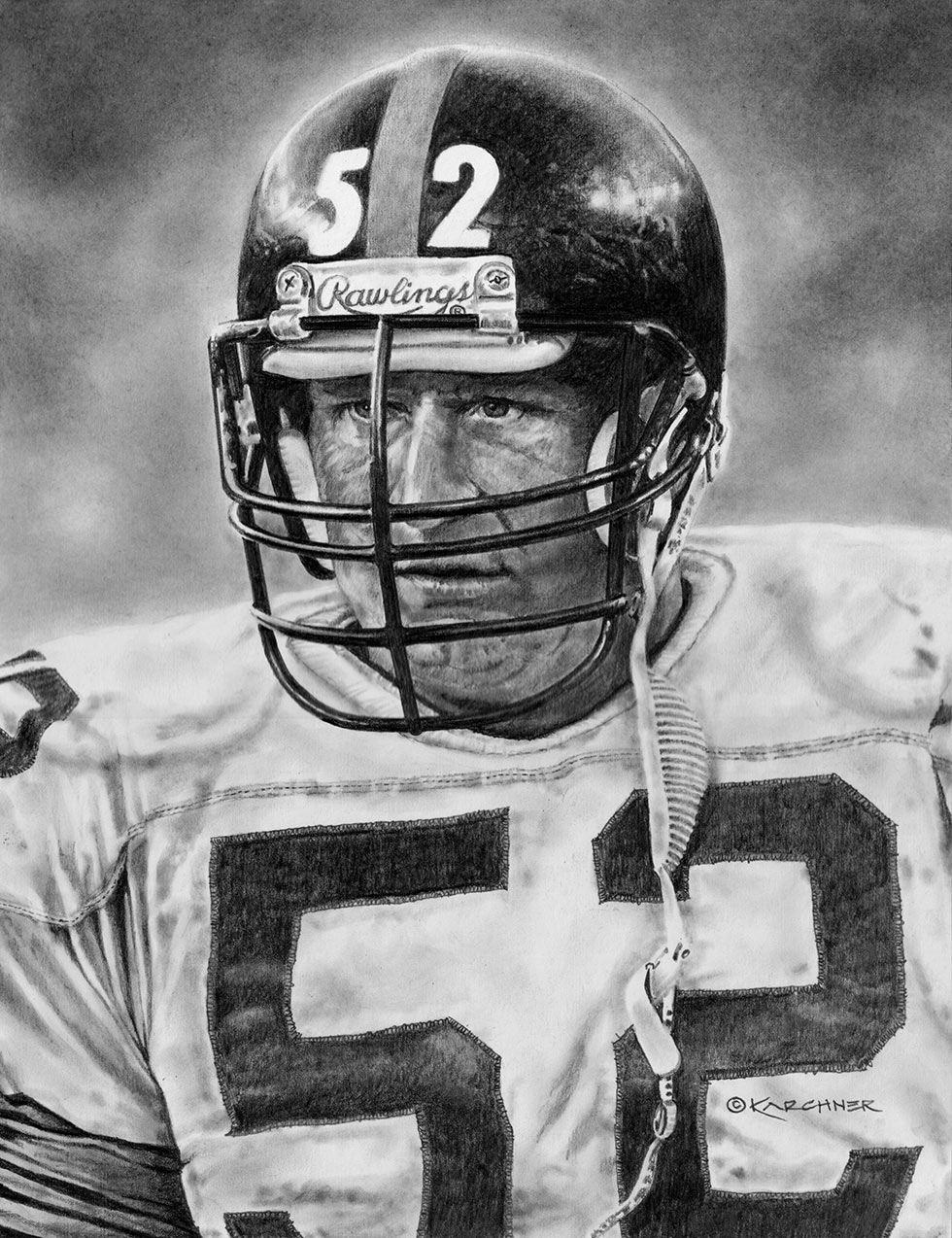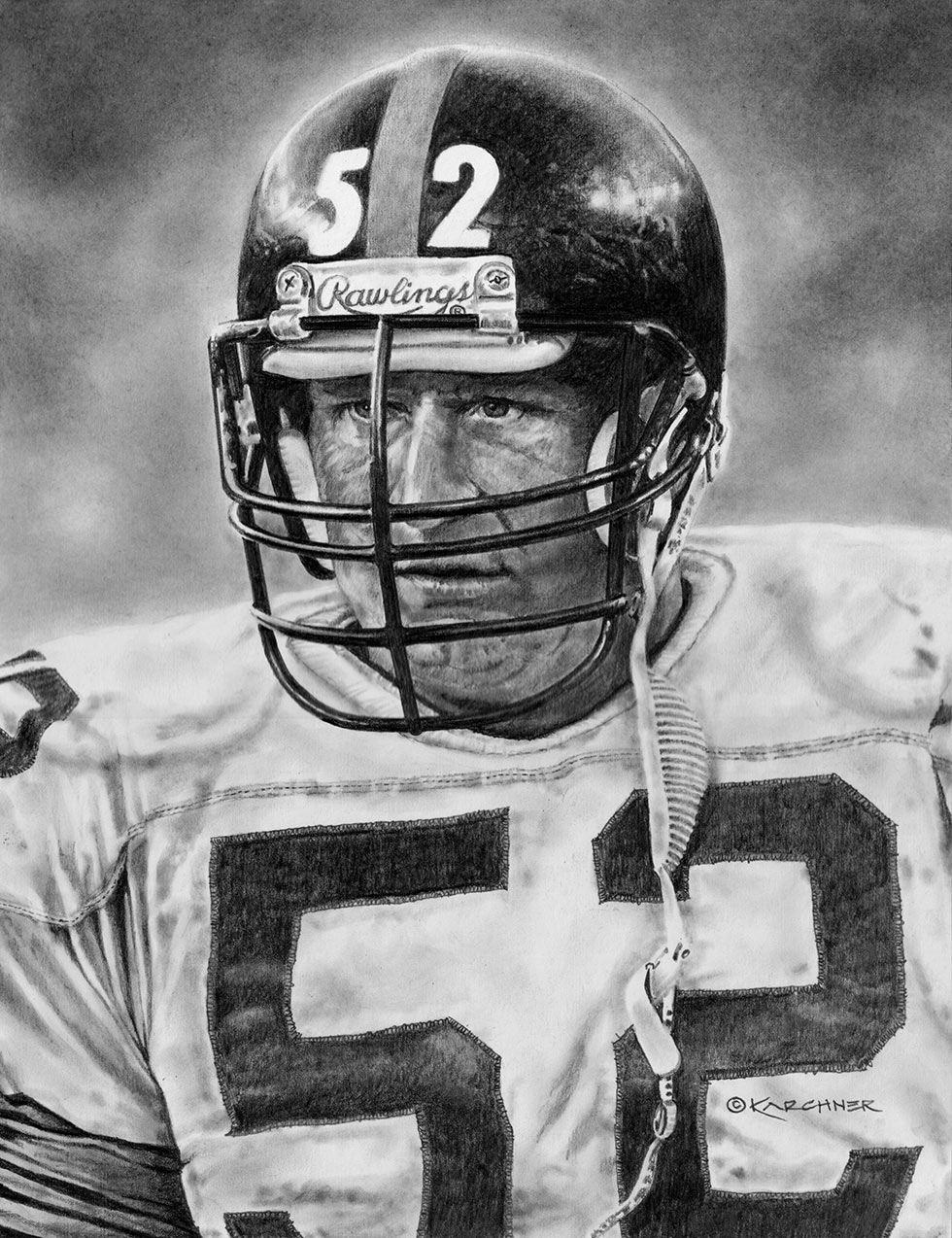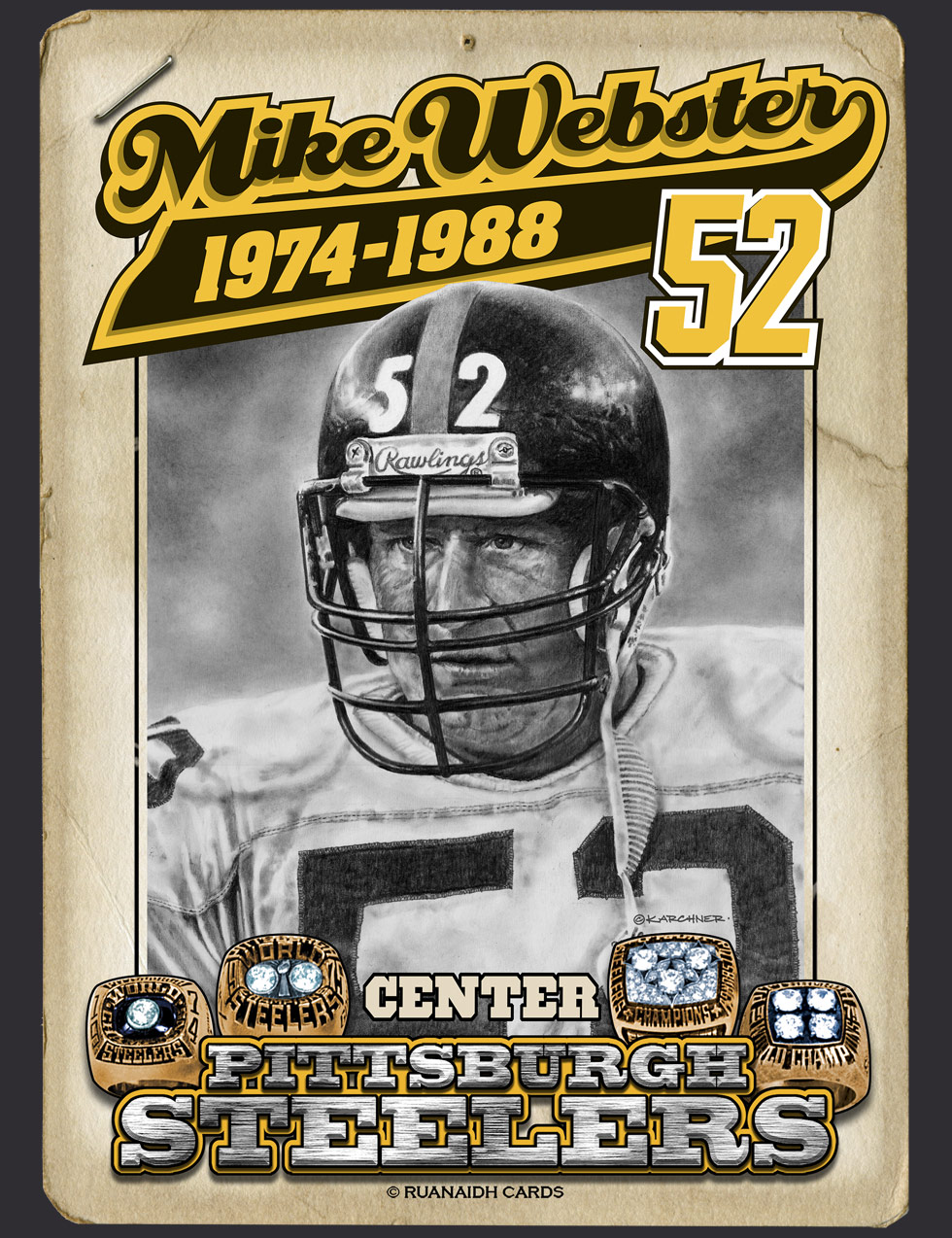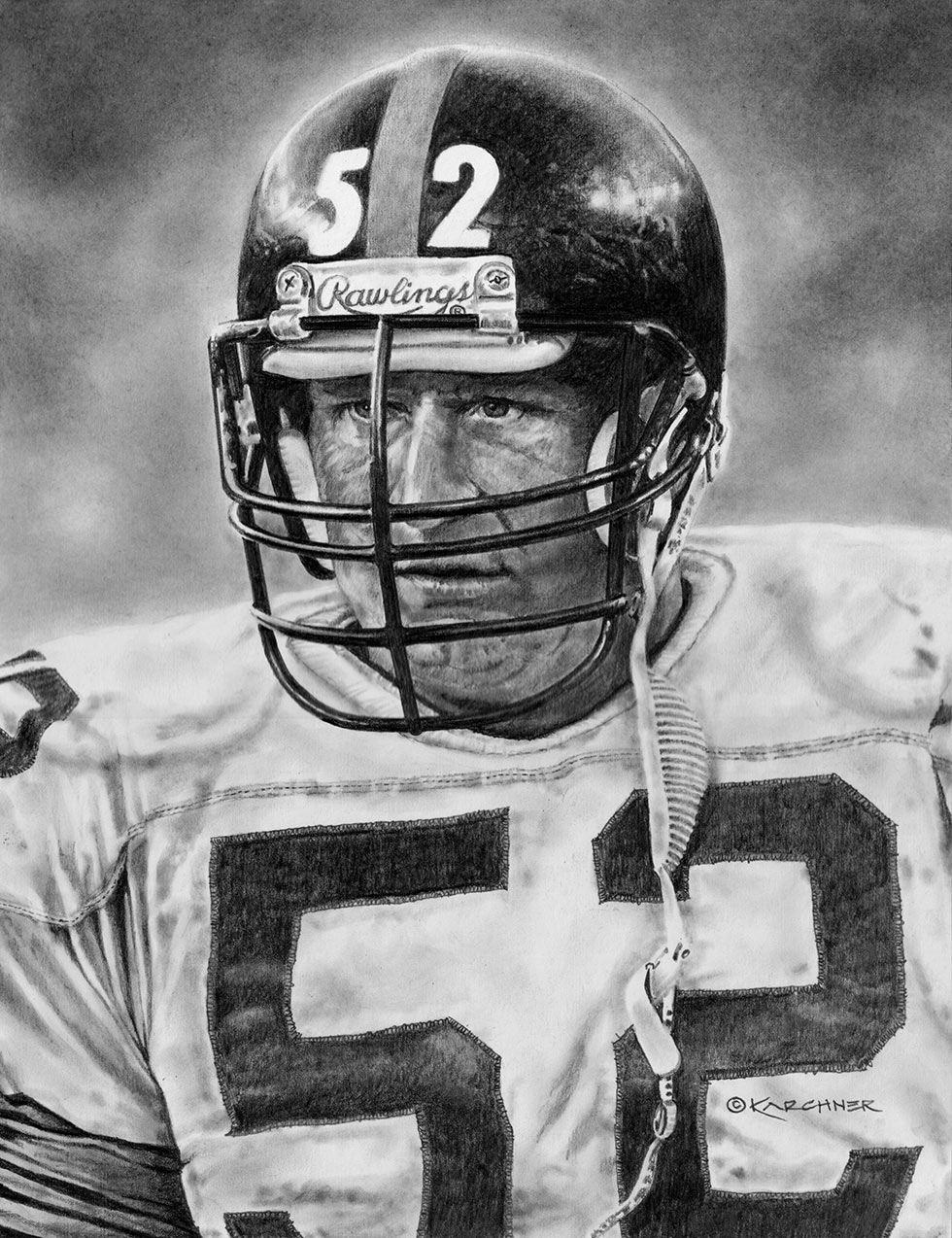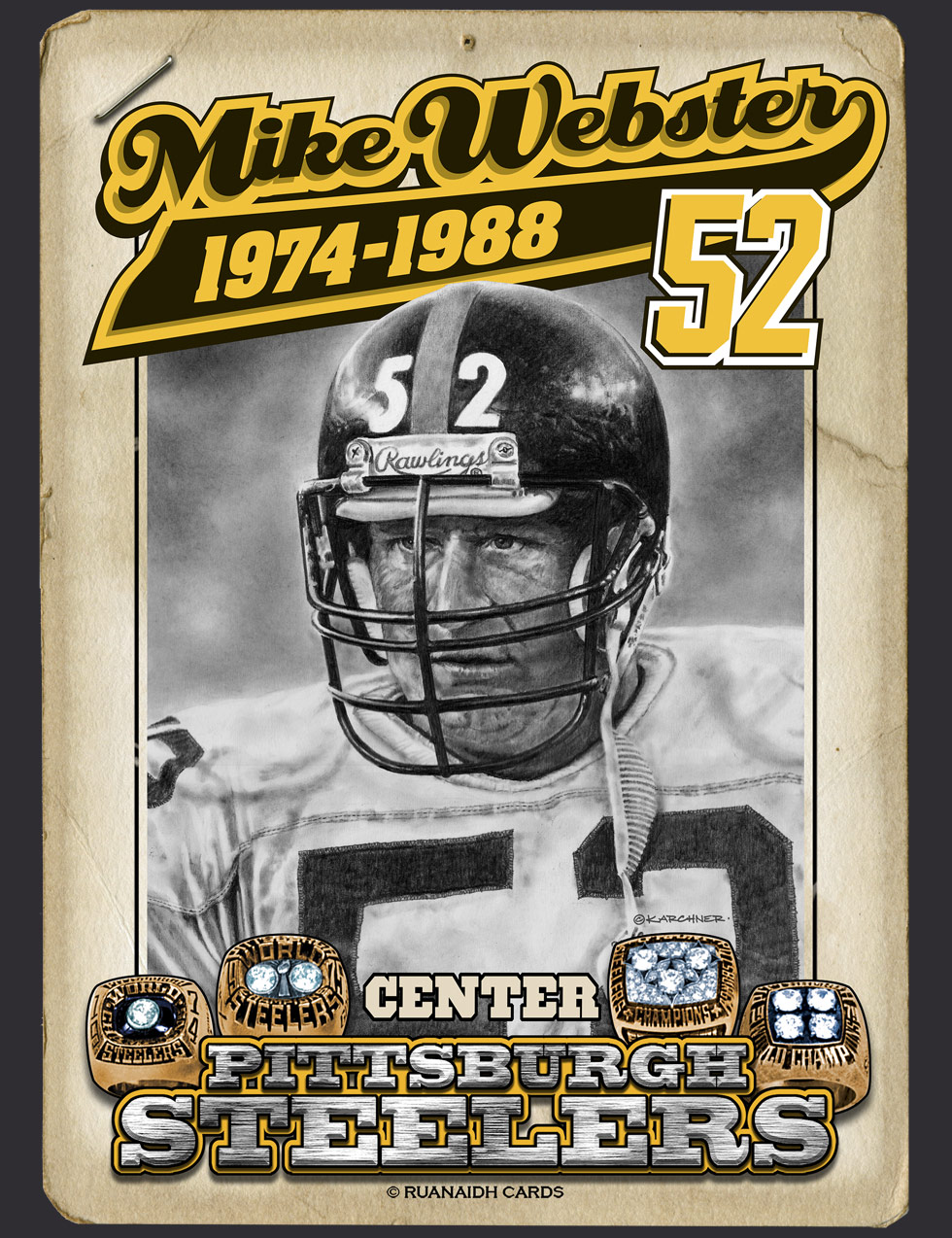 Michael Lewis Webster (March 18, 1952 – September 24, 2002) was an American professional football player who was a center in the National Football League (NFL) from 1974 to 1990 with the Pittsburgh Steelers and Kansas City Chiefs. He is a member of the Pro Football Hall of Fame, class of 1997. Nicknamed "Iron Mike", Webster anchored the Steelers' offensive line during much of their run of four Super Bowl victories from 1974 to 1979 and is considered by many the greatest center in NFL history.
Football Career
Mike Webster was regarded as the best center in the Big Ten during most of his career at the University of Wisconsin–Madison. At 6-foot-1, 255 pounds, he was drafted in the fifth round of the 1974 NFL Draft by the Pittsburgh Steelers. Serving as a backup at center and guard for two years while being mentored by veteran center Ray Mansfield, Webster became the team's starting center in 1976, where he remained for 150 consecutive games. He was the Steelers' offensive captain for nine years. This ended in 1986 when he dislocated his elbow, causing him to sit out for four games. With the Steelers winning Super Bowl IX, X, XIII, and XIV, Webster and Terry Bradshaw form one of the best-known center–quarterback pairs in history. Webster was honored as an All-Pro seven times and played in the Pro Bowl nine times. An avid weightlifter, Webster was known for playing with bear arms to keep opponents from grabbing his sleeves. Webster is also perhaps the best known of a long line of All-Pro centers for the Steelers.[citation needed] From 1964 to 2020, just five men started at that position: Mansfield, Webster, Dermontti Dawson, Jeff Hartings, and Maurkice Pouncey, with the only exceptions being injuries as well as a three year period between 2007 and 2009 when the center position alternated between journeymen Sean Mahan and Justin Hartwig. In his last year in Pittsburgh, Webster returned the favor by mentoring the then-rookie Dawson in the same manner Mansfield had mentored Webster earlier in his career.
Retirement and Legacy
Webster was a free agent after 1988 season. He was signed by the Kansas City Chiefs, who initially made him an offensive line coach before allowing him to return as the starting center. Webster played two seasons in Kansas City before announcing his retirement on March 11, 1991, after a 17-year career with a total of 245 games played at center. At the time of his retirement, he was the last active player in the NFL to have played on all four Super Bowl winning teams of the 1970s Steelers. At the time of his retirement, he had played more seasons as a Steeler than anyone else in franchise history (15 seasons), one season ahead of Terry Bradshaw and Hines Ward. Ben Roethlisberger tied Webster's record in the 2018 season, and broke it in 2019.
While, at the time of his retirement, the Steelers were no longer officially retiring jerseys, Webster's No. 52 has not been reissued by the team since he retired. In 1999, he was ranked number 75 on The Sporting News' list of the 100 Greatest Football Players. The football stadium at Rhinelander High School, his alma mater, is named Mike Webster Stadium in his honor. Webster was posthumously elected to the Wisconsin Athletic Hall of Fame in 2007.
Writeup courtesy of Wikipedia
Pencil on Illustration Board 10″ x 13″
Original available. $2,500
Inquire today about purchasing the original or a signed and numbered print. Call 307-899-2052 or email.